Strong commitment Panasonic for the 3D
Un camcorder P2 para estereoscopía, un monitor de plasma compatible HD 3D y un gabinete de trabajo en estrecha colaboración con Hollywood para el desarrollo de la estereoscopía demuestran el interés de la marca por la tercera dimensión.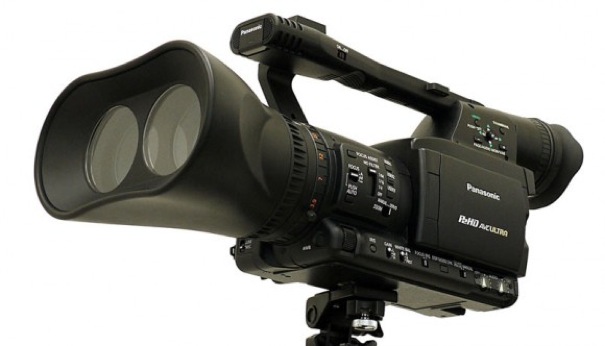 Trabajar a una cadencia de datos de 200 Mbps en base al codec AVC H.264 Intra-frame será realidad en un plazo de menos de un par de años gracias al nuevo codec AVC-Ultra. La importancia de este codec es grande ya que, además de duplicar la actual cadencia de 100 Mbps en soluciones de alta definición a 1080p, permitirá por el momento continuar trabajando a 100Mbps pero con doble señal: es decir… en estereoscopía. Por el momento, Panasonic ya ha anunciado una solución 3D Full HD mediante el uso de un curioso camcorder P2 con dos objetivos y grabación simultánea en dos tarjetas P2 HD. A la hora de exhibir las imágenes captadas por la cámara, Panasonic cuenta con un sistema 3D Drive capaz de reproducir las dos señales Full HD creando el correspondiente efecto 3D para uno y otro ojo con una reproducción de color más que aceptable y con gran nitidez de las escenas, incluso con personajes u objetos moviéndose a gran velocidad. Además, al trabajar sobre estado sólido se evita la necesidad de contar con pesados equipos de captación en doble composición de configuración 'casi artesanal'. Esta cámara aportará gran flexibilidad en un equipo compacto y de manejo mucho más sencillo que las engorrosas propuestas con dos cámaras existentes hasta ahora.
Desde el punto de vista del consumidor, Panasonic viene demostrando también desde hace tiempo sumo interés en desarrollos 3D como demuestra la presentación en octubre del año pasado del primer Home Theater Full HD 3D basado en su pantalla de plasma de 103 pulgadas y una solución de Blu-ray. Para canalizar todos estos esfuerzos, tanto en lo que respecta al mercado broadcast como a su relación con la industria de Hollywood, Panasonic ha creado en febrero de este año el Advanced Authoring Center, un grupo de trabajo que formará parte del denominado Panasonic Hollywood Laboratory. Uno de los objetivos más inmediatos es el desarrollo de títulos en Blu-ray en 3D. Pero antes de distribuir, habrá que producir, y por ello, Panasonic está apostando fuerte por soluciones que hagan perder el respecto que la industria tiene con respecto al complejo rodaje en 3-D. La nueva cámara P2 HD 3D, puede ser la solución.

Did you like this article?
Subscribe to our RSS feed and you will not miss anything.
Other articles on 3D, Panasonic
Otros artículos relacionados