Apuntolapospo and i2CAT, and Ovide BS make it possible the first live 3D broadcast
Un fragmento de la ópera
Fidelio
de Beethoven retransmitida desde el Liceo en directo y, por vez primera en todo el mundo, en 3D en calidad cinematográfica 2k x 2.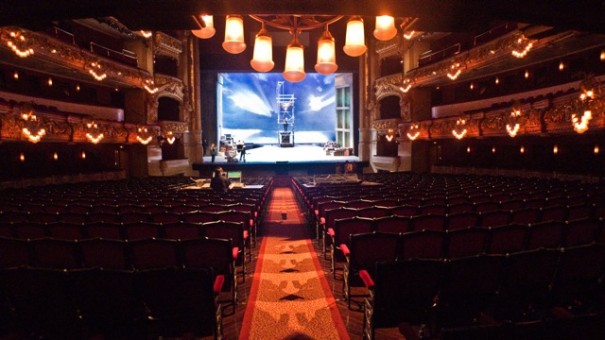 En el marco de la quinta edición del Festival DiBa, Apuntolapospo en colaboración con Ovide BS e i2CAT han llevado a cabo una experiencia pionera retransmitiendo a través de Internet 2 un ensayo con imágenes 3D de la ópera Fidelio en una producción del Metropolitan Opera House de Nueva York estrenada anoche en el Teatre del Liceu de Barcelona. Se trata de un acontecimiento pionero y único en el mundo ya que ha sido la primera retransmisión en directo, con tecnología 3D, y en calidad cinematográfica 2k x 2.
Apuntolapospo se ha encargado, además del control estereoscópico y de la compresión a JPEG 2000 en directo, de convertir las señales en IP para enviarlas por la red a través de Internet 2 (banda ancha aportada por la Fundación i2CAT) directamente al Auditorio del Campus de la Comunicación de la Universidad Pompeu Fabra, habilitado para proyección estereoscópica por Kelonik. Ya en la sala, Apuntolapospo ha vuelto a desempaquetar los datos IP para convertirlos en estándar dual JPEG 2000, discretizando los 6 canales de audio para poder proyectar en 3D la obra con calidad cinematográfica.
El reto de esta experiencia ha sido conseguir una retransmisión en HD superando las estrictas normas de DCI del mundo cinematográfico. Ovide BS se ha encargado de la configuración milimétrica de todos los equipos ya que para la retransmisión en 3D es necesario parejas de equipos idénticos. Entre el equipamiento utilizado destacan varias parejas de cámaras de estudio Thomson LDK 8000, una pareja de mini cámaras de HD Iconix y doce ópticas FJs de Canon. La monitorización se ha llevado a cabo con monitores de Grado1 ajustándolos por parejas según las señales entrantes evitando así distorsiones posteriores a la hora de generar la señal 3D.
Sergi Maudet, al frente del equipo de Ovide BS, ha destacado también la necesidad de adaptar un mezclador Grass "para hacer viable la entrada de las distintas señales de las parejas de cámaras puesto que en el mercado aun no existe un mezclador que satisfaga esta necesidad".
Esta experiencia pionera en todo el mundo se ha enmarcado dentro del Techroom organizado por DiBa y Apuntolapospo, y ha contado con la participación de Montse Martí (directora del DiBa), José María Aragonés (director técnico de Apuntolapospo), Lluis M. Güell (realizador), Sergi Maudet (director de Ovide B.S.), Artur Serra (director de la Fundación i2CAT), así como de Joan Francesc Marco (director general del Gran Teatre del Liceu).
Did you like this article?
Subscribe to our RSS feed and you will not miss anything.
Other articles on 3D, Apuntolapospo,

Diba

, I2CAT Foundation, ICONIX, Ovide BS, Thomson Grass Valley
Otros artículos relacionados