New version of Orad PowerWall
Orad presentará en IBC'09 una nueva versión de PowerWall, su solkución para mostrar gráficos en alta resolución sobre videowalls.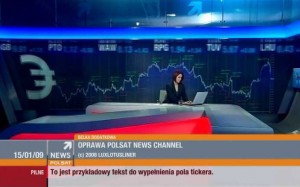 Basado en una plataforma HDVG capaz de ofrecer salida con resolución 4K, Orad presentó en el último NAB'09 su solución PowerWall. Ahora, coincidiendo con IBC'09 mostrará una actualización de un sistema que ha levantado mucha expectación por su poder gráficos a la hora de utilizar videowalls contenido en una pequeña caja. PowerWall permite una sincronización total entre el videowall y la fuente gráfica con funciones tan espectacular como la posibilidad de ampliar zonas sin que se produzca pixelación alguna.
La nueva versión del PowerWall integra la herramienta Configurator que conecta el sistema directamente al HDGV4K permitiendo hacer sobre la marcha cambios en el calibrado de los templates o en la apariencia del contenido (color, brillo, contraste…) al mismo tiempo que corre la emisión. Otra novedad es que el sistema incorpora ahora cuatro salidas DVI de genlock que pueden conectarse directamente al videowall sin utilizar ningún otro tipo de conversor.
Did you like this article?
Subscribe to our RSS feed and you will not miss anything.
Other articles on IBC, Pray
Otros artículos relacionados