New AJA Kona 7.0, compatible with Snow Leopard
AJA lanza una nueva versión del software para su popular línea Kona de tarjetas capturadoras y reproductoras.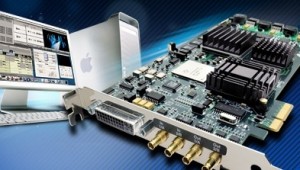 AJA Video Systems, fabricante de referencia en vídeo profesional y soluciones de conversión, ha lanzado una nueva versión del software para su línea Kona de capturadoras y reproductoras de vídeo en las que se incluyen Kona LSe, LHe, LHi y la alta gama de Kona 3. Esta familia incluye AJA Kona de 10-bit sin comprimir y las tarjetas de captura de reproducción de vídeo y audio de entrada y salida sobre plataformas Mac. La versión 7.0 ofrece soporte para Mac OS X v10.6 Snow Leopard, el nuevo sistema operativo de Apple, y estará disponible para descargar de forma gratuita a los usuarios actuales de Kona.
Según Nick Rashby, presidente de AJA Video, "con Final Cut Pro como la plataforma de edición de elección para la mayoría de los profesionales de vídeo, hemos considerado la importancia de proveer soporte para las herramientas creativas más recientes de Apple y sus sistemas operativos".

Did you like this article?
Subscribe to our RSS feed and you will not miss anything.
Other articles on AJA, Apple,

Kona
Otros artículos relacionados