Matrox Announces the Convert DVI converter
Matrox Video Products Group ha presentado hoy Matrox Convert DVI, una convertidora SD/HD SDI por debajo de los mil dólares capaz de pasar fuentes DVI a vídeo SD o HD para broadcast, presentación o grabación.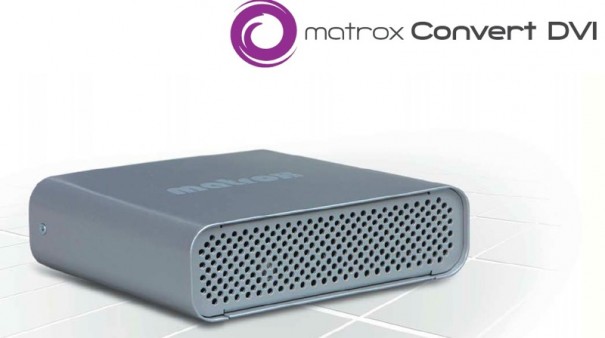 Matrox ha presentado hoy al mercado una nueva convertidora cuyo precio estará por debajo de los 1.000 dólares y que está pensada para pasar de DVI a SD o HD. Esta solución permite dar salida a toda la imagen o centrarse en un área determinada proporcionando mayor resolución. Entre otras características ofrece genlock con controles de timing offset, un algoritmo avanzado de reducción de escala, un filtro de reducción de parpadeo, y mapeado de píxel uno-a-uno para garantizar una óptima calidad y flexibilidad.
Este dispositivo multipropósito es, según Chris Yigit, director de marketing técnico de Matrox, "ideal para la creación de vídeo en entornos informáticos, como en vieojuegos, presentaciones en PowerPoint, vídeos para YouTube, animaciones para Google Earth y navegación web en general. Es un modo fácil de crear vídeos de aplicación de software de formación. Es también el aparato ideal para proyectores y pantallas grandes en eventos en vivo siendo una solución de muy bajo costo en HD para editores de vídeo que utilizando aplicaciones como Avid Media Composer. "
La Matrox Convert DVI podrá verse en el stand de Matrox en IBC.
Technical characteristics

Entrada DVI: hasta 1920 x 1200

Salidas digitales: HD / SD SDI

Entrada de audio estéreo: embebido en la señal de salida SDI

Salidas analógicas: HD / SD analógica componente, S-Video y compuesto

Salida Simultánea analógica y digital

Controles de nivel de negro (dos niveles) en SD o HD tri-nivel de genlock con controles de timing offset

HD a SD en tiempo real con reescalado por hardware conservando color y convirtiendo relación de aspecto

Región de apoyar el interés de salida

Filtro anti-parpadeo filtro

Puede funcionar como dispositivo independiente
Did you like this article?
Subscribe to our RSS feed and you will not miss anything.
Other articles on IBC, Matrox
Otros artículos relacionados