Fernando Trueba will receive the prize of honour of the Seville European Film Festival
El director y productor Fernando Trueba recibirá el Premio de Honor del Festival de Sevilla por su larga carrera cinematográfica, en la que "siempre ha mantenido un alto nivel de exigencia profesional y una visión personal y renovada sobre la vida y sobre el cine", como ha destacado la dirección del certamen.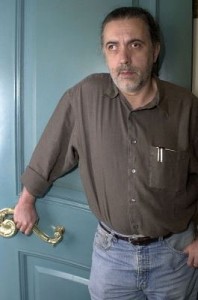 El Sevilla Festival de Cine Europeo ha decidido entregar el Premio de Honor de este festival al director Fernando Trueba como reconocimiento a su exitosa carrera profesional. El premio se entregará en una gala especial, durante la próxima edición del festival que se celebra en Sevilla del 6 al 14 de noviembre. A continuación, se proyectará su última película El baile de la victoria, así como otros títulos de su filmografía en un ciclo especial.
El Festival mantiene así la línea, inaugurada en la última edición con José Luís Borau, de premiar a un director español con proyección internacional en el seno del Festival de Cine Europeo que, entre otras actividades, organiza el anuncio de las nominaciones a los premios de la Academia Europea de Cine (EFA).
Fernando Trueba vive una etapa de gran actividad, con el estreno de El baile de la victoria, su primera película de ficción en varios años- y la producción de un largometraje de animación en colaboración con el diseñador Javier Mariscal.
Rafael Azcona, uno de sus mejores amigos y colaboradores, autor del guión de Belle Epoque, la película con la que obtuvo el Oscar, también será reconocido por el Festival de Sevilla. En una sesión especial, estrenará en España L´ultimo Pulccinella, película dirigida en Italia por Maurizio Scaparro, actual responsable de la Bienal de Teatro de Venecia, que fue el asesor teatral de la Exposición Universal del 92.
Fernando Trueba, una carrera de éxito

Fernando Trueba se dio a conocer, en 1980, con su primera película, llamada oportunamente Ópera prima. En 1985 alcanzó la fama con la comedia Sé infiel y no mires con quién protagonizada, entre otros, por Ana Belén, Carmen Maura y Antonio Resines. En 1992, estrenó la oscarizada Belle epoque con un gran elenco de actores nacionales. En el 1994 dirigió Two Much protagonizada por Antonio Banderas y Melanie Griffith. Y cuatro años más tarde, dirigió La niña de tus ojos, película protagonizada por Penélope Cruz que consiguió siete Goyas, entre ellos el Goya a la mejor película.

Posteriormente, el documental musical Calle 54, representó un aparente salto de contexto en la obra de Trueba que continuaría en 2004 con El milagro de Candeal. La última película de ficción que Trueba ha estrenado, hasta el momento, es El embrujo de Shanghai una adaptación de la novela homónima de Juan Marsé.
Did you like this article?
Subscribe to our RSS feed and you will not miss anything.
Other articles on Festivals, Seville Festival
Otros artículos relacionados