Media 100 version 1.1 Blackmagic cards bear
Media 100, filial de Boris FX, ha anunciado que soportará a partir de ahora las tarjetas de vídeo de Blackmagic Design en su editor y compositor.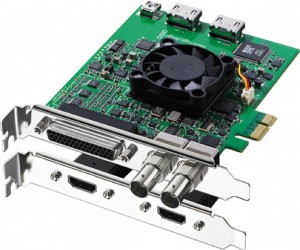 A partir de ahora se podrá trabajar con tarjetas DeckLink SDI, DeckLink Studio y DeckLink Studio de Blackmagic en el sistema de edición y composición Media 100 a partir de su versión 1.1. La suite de Media 100, presentada en el último IBC soporta además varios codecs QuickTime incluyendo DVCPRO HD y Apple ProRes 422.
En cuanto a las tarjetas Blackmagic Design además de con Media 100 son compatibles con Matrox MXO2, AJA video I/O tarejtas, el hardware Media 100 HDx, FireWire I/O, y los sistemas de adquisición P2 de Panasonic.
Una de las ventajas de este anuncio es que aquellos usuarios que trabajen con Apple Final Cut Studio y Adobe After Effects podrán compartir proyectos entre Final Cut Pro, Color y Media 100, así como de Media 100 para After Effects. Los editores pueden además exportar material Media 100 a Final Cut Pro para su posterior edición y revisiones, exportar Final Cut Pro a Media 100 o una secuencia Media 100 a Color para un ajuste avanzado de color. Una de las principales ventajas de Media 100 Suite es que se trata de una suite de edición para Mac OS X con una fuerte integración con Final Cut Studio y Adobe After Effects, permitiendo compartir fácilmente proyectos con y exportar líneas de tiempo desde Media 100 hacia After Effects.
Los clientes de Media 100 Suite 1.x pueden descargarse la v1.1 de forma gratuita desde la Web de Media 100.

Did you like this article?
Subscribe to our RSS feed and you will not miss anything.
Other articles on Blackmagic,

Media 100
Otros artículos relacionados