'V Alien Invasion': lizards return to the D-21
El director de fotografía de 'V', Stephen Jackson, está sacando el máximo partido a la ARRIFlex D-21 incorporado numerosos efectos visuales sobre chroma verde. Otras series como 'Community' (NBC), 'Lie to me' (Fox), 'Nurse Jackie' (Showtime), 'Bored to Death' (HBO) y 'Supernatural' (CW) también se están rodando con esta cámara digital.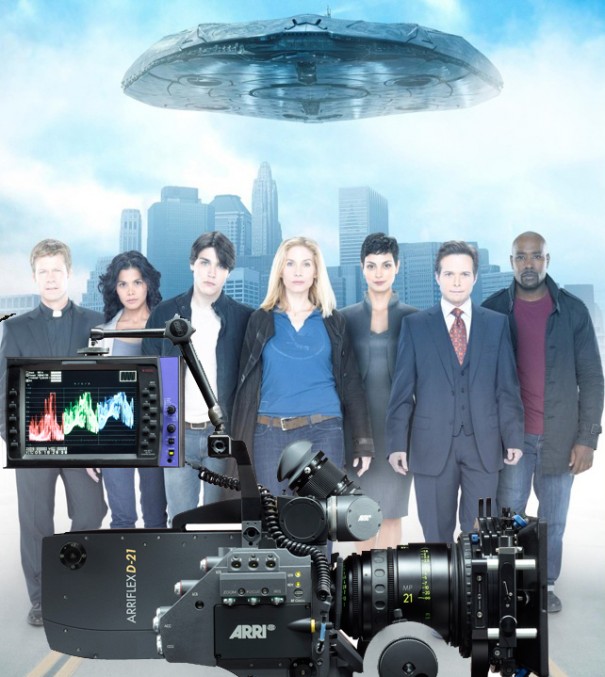 Un cuarto de siglo después los lagartos visitantes extraterrestres con pinta de humanos han vuelto a tomar la Tierra emitiéndose un remake de la mítica serie escrita y dirigida por Kenneth Johnson en la ABC norteamericana. Para el rodaje de la nueva entrega de V, la productora ha optado por la cámara digital ARRIFlex D-21 por su alta manejabilidad, rapidez de rodaje y alta calidad.
Stephan Ukas-Bradley, director de producto de producción digital en ARRI ha comentado que "la ARRIFlex D-21 provee herramientas creativas muy eficientes en una gran variedad de escenarios. Estamos muy orgullosos de la labor increíble que se está llevando con esta cámara". En el rodaje de V, su director de fotografía, Stephen Jackson ha incorporado numerosos efectos visuales sobre chroma verde
Fuerte presencia en tv
Otras series como Community (NBC), Lie to me (Fox), Nurse Jackie (Showtime), Bored to Death (HBO) y Supernatural (CW) también se están rodando la ARRIFlex D-21. En el caso de Community, se trata de una una comedia protagonizada por Joel McHale y Chevy Chase cuya producción se basa en el flujo de trabajo de Sony XDCAM que permite un tiempo y de manera muy rentable para editar. Por su parte, Lie To Me saca el máximo partido del sensor de la D-21 para obtener una gran profundidad de campo capturando con detalle primeros planos y los tics y expresiones más insignificantes bajo fotografía de Jerry Siddell y José Gallegher.
Did you like this article?
Subscribe to our RSS feed and you will not miss anything.
Other articles on ARRI,

D-21

, Sony, XDCAM
Otros artículos relacionados