The audiovisual valenciano opens ways of internationalization
El Cluster Audiovisual Valenciano organiza una Jornada sobre los diferentes modelos de misiones comerciales de empresas e instituciones para la internacionalización del sector audiovisual.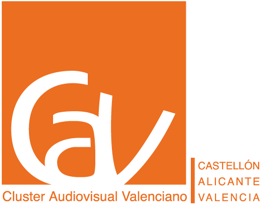 El Cluster Audiovisual Valenciano (CAV), con la colaboración del IMPIVA, reunirá este lunes 28 de diciembre a las principales autoridades en el campo de la internacionalización audiovisual. La Jornada tiene como objetivo estudiar y comparar los modelos que ofrecen las distintas comunidades autónomas para ofrecer nuevas vías de negocio desde la internacionalización, estableciendo sinergias entre empresarios e instituciones públicas.
La Sala Ausiàs March del Centro Cultural Bancaja de Valencia acogerá desde las 10.00 horas las conferencias y posterior mesa redonda en la que participarán representantes de diferentes organismos públicos como el IVEX (Generalitat Valenciana), Catalan Films & TV, Promomadrid y Consorcio Audiovisual de Galicia. Esta Jornada será inaugurada por la Directora General de Ciudad de la Luz, Elsa Martínez. Precisamente Ciudad de la Luz es uno de los motores internacionales de la industria audiovisual de la Comunidad Valenciana y socio estratégico del Cluster.
En este sentido, el CAV busca abrir nuevas vías de negocio revisando los modelos colaborativos entre empresas e instituciones que desarrollan sistemas de promoción del audiovisual en la internacionalización, para generar un nuevo mapa de acciones que reflejen las necesidades reales de la industria audiovisual de la Comunidad Valenciana de cara a mejorar la presencia en el exterior.
El Cluster Audiovisual Valenciano, integrado por 52 empresas de toda la cadena de valor del audiovisual y que recientemente ha incorporado a sus miembros a RTVV, está haciendo una apuesta por la internacionalización como ha venido demostrando en los últimos seis meses con la presencia en diferentes festivales y mercados internacionales.

Did you like this article?
Subscribe to our RSS feed and you will not miss anything.
Other articles on Cluster Audiovisual Valenciano
Otros artículos relacionados