The solution for the audiovisual valenciano is the internationalization
El Cluster Audiovisual Valenciano organiza una Jornada sobre los diferentes modelos de misiones comerciales de empresas e instituciones para la internacionalización del sector audiovisual.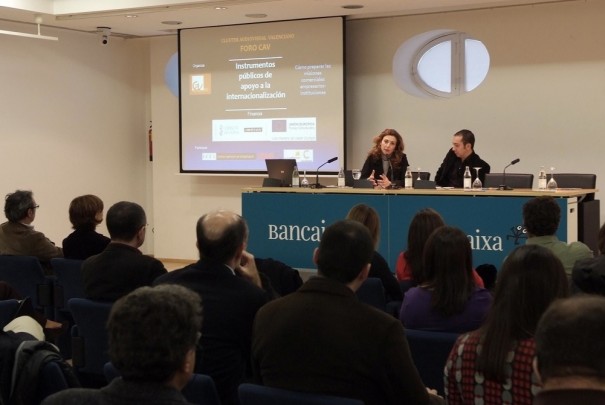 El Cluster Audiovisual Valenciano (CAV), con la colaboración del IMPIVA, ha reunido este lunes 28 de diciembre a las principales autoridades en el campo de la internacionalización audiovisual. La Jornada ha tenido como objetivo estudiar y comparar los modelos que ofrecen las distintas comunidades autónomas para ofrecer nuevas vías de negocio desde la internacionalización, estableciendo sinergias entre empresarios e instituciones públicas.
La Sala Ausiàs March del Centro Cultural Bancaja de Valencia ha acogido las conferencias y posterior mesa redonda en la que participarán representantes de diferentes organismos públicos como el IVEX (Generalitat Valenciana), Catalan Films & TV, PromoMadrid y Consorcio Audiovisual de Galicia. Esta Jornada ha sido inaugurada por la Directora General de Ciudad de la Luz, Elsa Martínez. Precisamente Ciudad de la Luz es uno de los motores internacionales de la industria audiovisual de la Comunidad Valenciana y socio estratégico del Cluster.
En este sentido, la Directora de la Ciudad de la Luz ha querido destacar "la importancia de organizaciones como el Cluster" para el audiovisual valenciano. Al mismo tiempo ha asegurado que la intervención del IVEX "va a ser vital para que la coproducción internacional y el negocio audiovisual tengan un flujo de negocio de ida y vuelta, en el que se consiga atraer al audiovisual extranjero y llegar a tener un negocio común". Por último, en el mismo marco de la internacionalización ha abogado por que los inversores extranjeros tengan "facilidades jurídicas" para poder trabajar en nuestro país.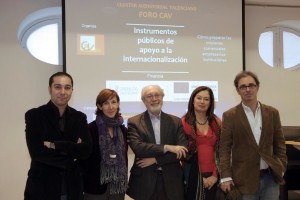 Reflexión en el sector
El punto reflexivo de las jornadas ha sido marcado por Nacho Varela, profesor de la Universidad de Vigo y con gran experiencia dentro del Consorcio Audiovisual de Galicia; y Àngela Bosch, Directora de Catalán Films&TV. Por parte gallega, Nacho Varela, ha pedido ser "autocríticos, disentir de los que no funciona al mismo tiempo de ser capaces de generar propuestas creativas y arriesgadas que apuesten por la internacionalización".
Por otro lado, Àngela Bosch planteó sus soluciones. Éstas pasan por "un producto que sea vendible internacionalmente. Para ello hay que asegurar un uso doméstico que será clave para la expansión internacional. Igualmente que su colega gallego animó a los productores a ser "más arriesgados".
Por último, participaron en estas jornadas la Directora del Área de Internacionalización del IVEX, Cristina Villó y el Director del área de Promoción Audiovisual de PromoMadrid, Carlos Martins. Desde el IVEX se tendió la mano al audiovisual valenciano, ofreciendo "sus 28 oficinas de promoción en 21 países diferentes". Al mismo tiempo tendió la mano a estas empresas con "las diferentes ayudas que saldrán a la luz en 2010". En esta sintonía se mostró Carlos Martins, quien puso a disposición del empresariado todo el amalgama organizativo de PromoMadrid.
Tras las diferentes ponencias tuvo lugar una charla con los asistentes a las jornadas. Aquí se pudieron sacar las conclusiones del día que pasaron por una mejora del sector de cara a buscar nuevos mercados en el exterior.

Did you like this article?
Subscribe to our RSS feed and you will not miss anything.
Other articles on Cluster Audiovisual Valenciano
Otros artículos relacionados