Sony and Ovide BS presented the new SRW-9000
El 12 de enero en Barcelona y el 14 en Madrid, Ovide BS y Sony presentan la nueva SRW-9000, un camcorder con la calidad de imagen HDCAM SR y una mayor libertad creativa.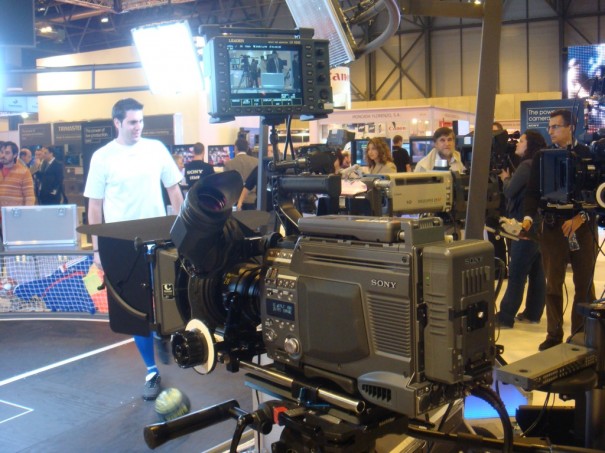 Sergi Ovide Maudet, director técnico de Ovide BS y Fernando Muro, product marketing Business Solutions en Sony, presentarán el próximo martes día 12 de enero en Barcelona y el jueves 14 en Madrid la nueva Sony SRW-9000. Este camcorder ha heredado muchas de las excelentes cualidades del HDW-F900/F900R y ofrece una increíble movilidad operativa incluso bajo condiciones de grabación adversas gracias a su cuerpo compacto y su excelente rendimiento de imagen con el formato de grabación HDCAM SR.
En la configuración estándar, el SRW-9000 puede realizar grabaciones en formato 4:2:2 Y/Cb/Cr a 10 bits con la más alta calidad, en 1080/23.98P, 24P, 25P y 29.97P, así como en 1080/50i y 59.94i. Además, el SRW-9000 puede grabar señales 4:2:2 720/50P y 59.94P, que pueden usarse para aplicaciones de programación y transmisión DTV. Para los usuarios que necesiten un mayor rendimiento creativo, se pueden añadir diversas tarjetas opcionales que les permitirán beneficiarse de la captura de imágenes RGB en formato 4:4:4 con ancho de banda 1080, la captura de imágenes y grabación SR Motion a una frecuencia de cuadro variable, gamma S-Log y entradas y salidas de señal adicionales.
Además de proporcionar una mejorada flexibilidad operativa y rentabilidad, el SRW-9000 es la opción ideal para cualquier persona relacionada con la industria del broadcasting que busque calidad de imagen HDCAM SR y una mayor libertad creativa. Tanto ahora como en el futuro, el SRW-9000 motivará el interés por increíbles producciones visuales en el cine digital, anuncios publicitarios, series de televisión y documentales.
Agenda:
Horario ininterrumpido de 10.30 a 17.00 horas
Registro en comunica@ovide.com 902 15 15 18
Did you like this article?
Subscribe to our RSS feed and you will not miss anything.
Other articles on Ovide BS, Sony, SRW-9000
Otros artículos relacionados