Irun opens today ABLA, Congress on communication, design, Marketing and supports
El Cluster Audiovisual de Euskadi, Sugar Factory con su maqueta de set virtual o Digitalak con su cámara 360º son algunas de las instituciones y empresas que estarán presente en la feria ABLA, que se inaugura hoy en Ficoba (Irún) con la vista puesta en la transformación del mercado y los nuevos modelos de negocio.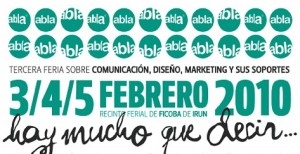 Con motivo de la celebración en el recinto de Ficoba, en Irún, del Congreso sobre Comunicación, Diseño, Marketing y sus Soportes, el Cluster Audiovisual de Euskadi contará con un stand propio. Desde hoy y hasta el 5 de febrero en este congreso se analizarán las oportunidades y los riesgos provocados por la inminente transformación del sector de la comunicación.
A través de esta iniciativa, Eiken aspira a compartir conocimiento y facilitar el acceso de sus socios y del conjunto del sector audiovisual vasco a la nueva realidad comunicativa que se está gestando y que todavía no está d efinida. La digitalización, los nuevos modelos de negocio y el impacto de los procesos de concentración son factores que marcarán el futuro inmediato del sector y que para el Cluster son retos ineludibles que deben ser afrontados en colaboración.
En este sentido, Eiken pondrá a disposición de los asistentes diversos recursos y materiales audiovisuales en su stand, así como una zona de reuniones para que las empresas puedan llevar a cabo sus gestiones comerciales. El objetivo, además de gestionar el conocimiento en el conjunto del sector audiovisual vasco, es garantizar el acceso de las empresas a las tendencias del mercado y facilitar la transición hacia el "nuevo audiovisual" sin poner el peligro el modelo tradicional.
Asimismo, Eiken aprovechará su presencia en la Feria Abla para potenciar el encuentro de las empresas audiovisuales con el sector de la Publicidad. En este contexto, el Cluster aspira a fomentar, durante los tres días de celebración del Congreso, una relación directa entre ambos colectivos, de manera que se visualicen los retos actuales y se pongan las bases para una colaboración más efectiva dentro del nuevo panorama comunicativo audiovisual.
Empresas del Cluster
Además de Eiken, varias empresas socias del Cluster estarán presentes en ABLA. En este sentido, Sugar Factory trasladará al recinto de Irún una maqueta de set virtual que, gracias a la tecnología VSN Freemove, ofrece resultados de alta calidad – máxima amplitud en el mínimo espacio posible – a un coste económico ajustado. Sugar Factory llevará a cabo una demostración de esta herramienta en el "Exhibitor Corner", hoy miércoles 5 de febrero a las 11:30 horas.
Por su parte, la empresa Digitalak prevé proyectar diversas grabaciones realizadas con su cámara de 360º. Además, durante uno de los días de celebración del evento, Digitalak tiene previsto realizar una grabación "in situ" para proyectarla posteriormente en la propia feria ABLA. Asimismo, la compañía Gizer.net también contará con stand propio en ABLA, donde se pondrá a disposición de los asistentes una demo de su producto.
Por último, la compañía Jarkatza presentará su lanzadera de conexión a Internet vía satélite, que permite el acceso desde cualquier punto de la península independientemente de la disponibilidad de infraestructura telefónica. Para ello, el sistema desarrollado por Jarkatza utiliza la red de satélites Astra e Hispasat.
Asimismo, entre las actividades previstas en ABLA, además de la esperada intervención del experto en marketing Mark Earls (también conocido como HERDmeister en el ámbito de internet y las redes sociales), tendrán lugar diversas conferencias relacionadas directamente con el panorama audiovisual, como la distribución, el impacto de Internet y el uso cada vez mayor de las herramientas interactivas.
Did you like this article?
Subscribe to our RSS feed and you will not miss anything.
Other articles on ABLA, Cluster of Audiovisual Euskadi, Digital, HISPASAT, SES Astra, Sugar Factory
Otros artículos relacionados