Brainstorm tab to David Alexander as the new director of sales
Brainstorm restructures its sales division incorporating front David Alexander whose main objective will be to the company position Spanish in international markets.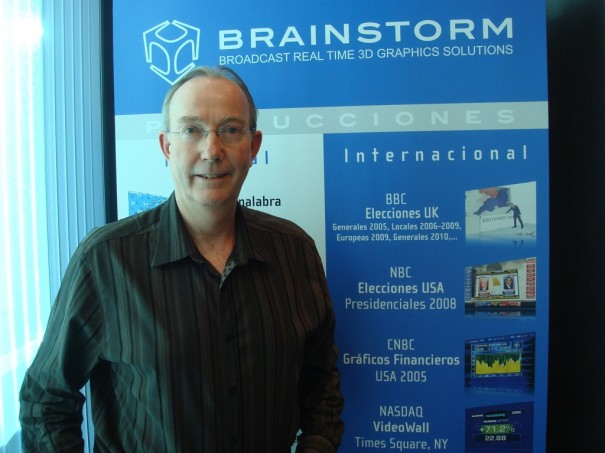 La empresa española especializada en grafismo y entornos virtuales de alto nivel para televisión ha fichado a David Alexander, uno de los profesionales europeos con más prestigio en el sector, como nuevo director de ventas. Con esta incorporación, Brainstorm reestructura su división de ventas acentuando aún más la proyección internacional de sus soluciones para espacios informativos, deportivos, financieros o de entretenimiento ya presentes en canales de todo el mundo como TVE, BBC, RTL, TSR, NBC, CNBC, Reuters, Abu Dhabi TV, Al Jazeera, NHK, NTV y TV Asaha en Japón, KBS y MBC Corea.
Brainstorm expandirá así su presencia en los mercados tradicionales europeos, americanos y asiáticos, entrando a la vez en mercados emergentes como América Latina o nuevos medios.
Ricardo Montesa, CEO de Brainstorm, tras mostrarse muy contento con la incorporación de Alexander, ha comentado que "David será una pieza clave a la hora de ayudarnos a lograr nuestros objetivos de expansión en 2010. Su amplia experiencia en ventas internacionales y sus muchos amigos y contactos de negocios en toda la industria de la televisión ayudará a consolidar nuestra presencia en los mercados existentes, acelerando la entrada en nuevos".
Durante su paos por Quantel, David Alexander jugó, como responsable del Sur de Europa y América Latina, un papel decisivo en la expansión de la empresa británica en estos mercados que representan un porcentaje significativo del volumen de negocios. En los últimos años, Alexander venía colaborando con numerosas empresas del sector haciendo prospecciones de mercado y consultoría ayudándolas a entrar en segmentos de negocio de cierta complejidad.
Bilingüe inglés-español, y conocedor de la realidad de los mercados europeos y latinoamericano, David Alexander será, sin duda, una pieza clave para afianzar aún más la internacionalización de Brainstorm.

Did you like this article?
Subscribe to our RSS feed and you will not miss anything.
Other articles on Brainstorm, Appointments
Otros artículos relacionados