Practical solutions for Panasonic in field and study
Panasonic presentó en la tarde de ayer en Madrid algunas de sus últimas novedades. Los profesionales pudieron conocer de primera mano el nuevo Sistema de Configuración de Estudio, el mezclador HS450, el nuevo P2 Mobile HPM200, la cámara subjetiva AK-HCK10, la HD multipropósito HE870 y la gama de monitores LCD HD.
Panasonic compartió con los profesionales su experiencia en entornos broadcast, presentando en el Plató Cenital de Madrid algunas de sus últimas soluciones. Una de las propuestas que más llamó la atención fue el nuevo Camera Studio System, un sistema capaz de convertir un camcorder de hombro en una cámara de estudio. Los modelos de cámaras que admite este sistema son los P2 HD (AG-HPX300, AG-HPX500, AJ-HPX3700, AJ-HPX2700, AJ-HPX3000, AJ-HPX2000/2100) y el DVCPRO HD AJ-HDX900. El sistema, capaz de trabajar a distancias de hasta 100 metros de cable común BNC sin ninguna degradación de la imagen HD, permite controlar remotamente todas las funciones de la cámara y la grabación, con retorno de imagen, micro y otras. La posibilidad de trabajar tanto en AC como en DC facilita así trabajar tanto en estudio como en campo.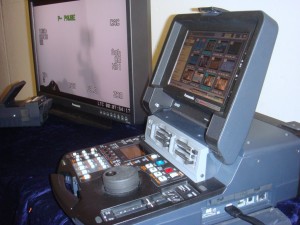 El Camera Studio System está compuesto por una estación base (AG-BS300), una unidad de control externa (AG-EC4), un adaptador de cámara (AG-CA300) y un VF interfaz (AG-YA500).
Para edición y gestión de media en red tanto en unidades móviles como en campo, Panasonic propone el P2 Mobile. Se trata de una maleta de 6,6 Kg equipada con interfaces Gigabit Ethernet y eSATA para alta velocidad en la transferencia de datos. Conectada a Internet ofrece la posibilidad de transferir ficheros sin necesidad de contar con un portátil.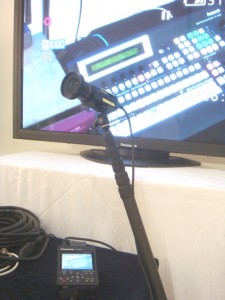 Trabaja con el codec AVC Intra, siendo el primer equipo P2HD que soporta codificación AVCHD (con la tarjeta opcional AJ-YCX250) por lo que es posible grabar y reproducir ficheros P2HD y AVCHD y convertir ficheros a estos dos formatos. Su interfaz completamente intuitiva da acceso inmediato al material con una rápida edición mediante un editor gráfico.Cuenta, además, con entradas y salidas AES/EBU y HD/SD.
En cuanto al mezclador AV-HS450, dispone de 16 entradas ampliables a 20, SDI / DVI, incorpora una doble función multipantalla para reducir monitorado. En la jornada profesional de ayer en Madrid se mostró junto a una pantalla de 50 pulgadas en la que se mostraban las diferentes fuentes, previos, programa… Ofrece un chroma key de alta calidad, doble P in P y DSK, pudiendo además controlar una cámara multipropósito robotizada de panasonic.
Otra de las novedades que ayer pudo verse en Madrid fue el sistema de captación subjetiva AK-HCK10, compuesta por grabador y cámara.
Did you like this article?
Subscribe to our RSS feed and you will not miss anything.
Other articles on AJ-HPM200, AV-HS450, AW-HE870, monitors, P2 HD, Panasonic
Otros artículos relacionados