MOG Technologies and Avid en BBC Scotland
MOG Technologies anuncia en NAB 2010 que junto a Avid están trabajando sobre el desarrollo MXFSpeedrail en el nuevo centro de producción digital Pacific Quay de la británica BBC que entre otras ventajas permitirá incrementar la eficiencia durante el proceso de ingesta.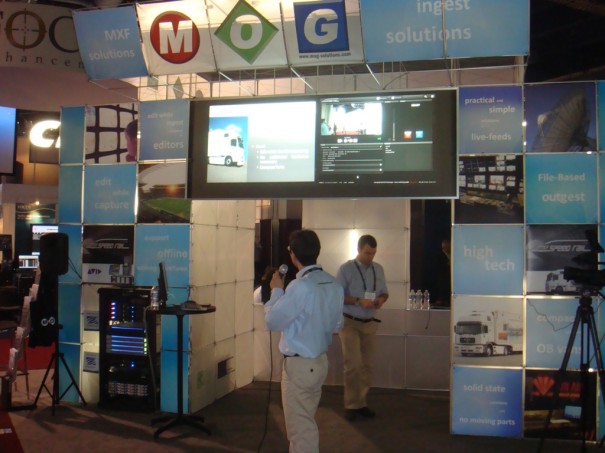 La portuguesa MOG Technologies, una empresa de referencia mundial en desarrollos de flujos de trabajo basados en MXF, ha anunciado hoy en Las Vegas que sus soluciones basadas en ficheros se integrarán junto a los sistemas Avid en el nuevo centro digital Pacific Quay de BBC Scotland.
Los productos de MOG serán utilizados por el broadcaster británico en su nuevo flujo de trabajo basado en archivos. En colaboración el equipo técnico basado en Glasgow, BBC Scotland integrará un desarrollo hecho a medida según sus necesidades de producción facilitando la generación transporte de metadatos desde el fichero fuente a lo largo de todo el sistema de edición. Los metadatos generados antes de que comience la grabación serán automáticamente incluidos en el sistema Avid Interplay, permiento la identificación de los activos de forma mucho más sencilla.
En el proyecto de la BBC se empleará una solución innovadora basada en ficheros denominada MXFSpeedrail destinada a incrementar la eficiencia durante el proceso de ingesta. El sistema basado en ficheros de MOG ingesta el material tapeless MXF (vídeo, audio y metadatos) desde cualquier localización al almacenamiento compartido.
Especialmente pensado para la BBC, el MXFSpeedrail F1000 será utilizado para la ingesta del material y su metadatos haciendo poniéndolo a disposición tanto del Avid ISIS como del sistema NAS. Este flujo de trabajo será utilizado tanto en los programas producidos localmente como en cadena desde el centro de Pacific Quay en alta definición, ayudando así a los editores a obtener el máximo rendimiento de todos los equipos utilizados, mediante la aplicación de una comunicación fluida entre los sistemas y estableciendo nuevos formas de vincular el material en todo el flujo.

Did you like this article?
Subscribe to our RSS feed and you will not miss anything.
Other articles on Avid, BBC, Interplay, MOG, NAB, Unity Isis
Otros artículos relacionados