All programming Ono, available from the iPhone
La aplicación Guía Tv Ono, disponible gratuitamente en la tienda online App Store, contendrá completa información de todos los canales de su plataforma de televisión de pago constituyéndose como vínculo de comunicación y reclamo hacia el espectador. Contará con integración en redes sociales como Facebook o Twitter.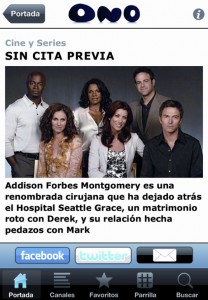 Ono ha lanzado su primera aplicación compatible con iPhone, iPod Touch y iPad. Guía TV Ono permite consultar de manera rápida y sencilla la programación de todos los canales de la plataforma, incluidos Pay Per View (PPV) y Gol Televisión. La aplicación está disponible de manera gratuita a través de la tienda online App Store.
Con Guía Tv Ono se pueden realizar búsquedas sobre toda la programación de los canales de Ono para los próximos siete días, crear y modificar listas de canales favoritos, navegar por la completa Guía Electrónica de Programación (EPG), que ONO ya ofrece a los usuarios de su televisión, o ver la información detallada de cada programa o película.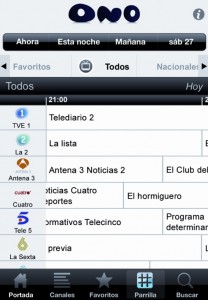 Además, la aplicación cuenta con integración en redes sociales como Facebook o Twitter, de forma que los usuarios podrán publicar información sobre la programación, películas o eventos en estas redes y compartirlas en su perfil, o enviar informaciones de los programas por correo electrónico, sin salir de ella.
Para Paul Healy, director de televisión de Ono, el cableoperador "satisface así a los usuarios que demandan una herramienta que ofrezca un servicio integrado con toda la información relativa a la programación y canales de la televisión de Ono, adaptada a la última tecnología y que permita la convergencia en las redes sociales".
La televisión de Ono cuenta actualmente con casi un millón de abonados.

Did you like this article?
Subscribe to our RSS feed and you will not miss anything.
Other articles on cable, Ono
Otros artículos relacionados