Sky Sports opts for the Enterprise production system from Quantel sQ
Siete servidores sQ multi-resolución con 1.500 horas de almacenamiento y ochenta y cuatro editores para periodistas sQ serán el corazón de las nuevas instalaciones de Harlequin 1 desde donde se producirá Sky Sports News. La redacción integrará también editores Final Cut Pro operando bajo el mismo flujo de trabajo.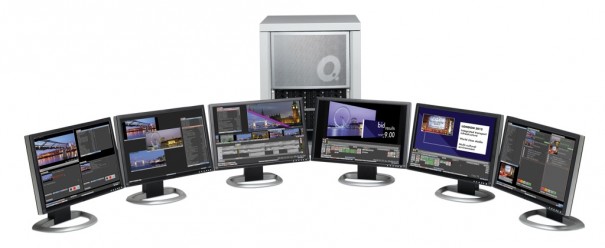 El broadcaster inglés Sky ha escogido a Quantel para integrar su tecnología en el nuevo megacomplejo de Harlequin 1 desde donde se producirá Sky Sports News. El corazón del flujo de trabajo lo constituirán siete servidores sQ multiresolución, ochenta y cuatro puestos de edición para periodistas sQ Cut y tres editores de nivel avanzado sQ Edit Plus. La redacción integrará también dos sistemas Final Cut Pro operando conjuntamente con Quantel en el mismo flujo de trabajo.
El sistema permite cualquier entrada, desde un simple video de calidad de visionado hasta HD proporcionando salidas de emisión en SD y HD, además de los nuevos formatos de distribución para móviles y PDAs. Enterprise sQ incluso puede mezclar SD y HD en un mismo clip y reproducirlo inmediatamente en cualquier formato.
Darren Long, jefe de operaciones de Sky Sports, ha comentado que "con la exigencia de actualizaciones al segundo como ocurre en los eventos deportivos, en los que además suelen concurrer varios al mismo tiempo, la redacción de deportes es un aunténtico desafío tanto para periodistas como para editores y, lógicamente, para los sistemas que utilizan. Elegimos la solución de Quantel, ya que es el sistema más rápido y eficiente de cara a añadir valor a la producción en tiempo real de informaciones constantemente actualizadas. Igualmente importante, es también muy fácil de aprender y usar, una cuestión fundamental para nuestro personal en un entorno tan trepidante".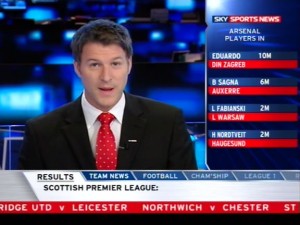 Por su parte, Martin Mulligan, director de ventas y marketing en Quantel ha añadido que "Sky Sports News establece un nivel alto en su exigencia de respuesta muy rápido en las imágenes de alta calidad, y también en su necesidad de que el sistema sea capaz de apoyar la futura evolución y crecimiento que Sky Sports News demandará en su innovación continua. Nuestros sistemas de producción basados en servidor se han diseñado para satisfacer tales exigencias, y la decisión de Sky Sports News optando por Quantel demuestra que, evidentemente, lo hemos logrado".

Did you like this article?
Subscribe to our RSS feed and you will not miss anything.
Other articles on Quantel, Sky
Otros artículos relacionados