TV3 will produce 3D the final of the Champions League
Por primera vez en el mundo, se hará una emisión en 3D de la final de la Champions League y TV3 ha sido la cadena encargada por la UEFA para producir y distribuir internacionalmente la señal de la final entre el Bayern de Munich y el Inter de Milán, que se jugará el 22 de mayo en el Santiago Bernabéu. Un total de trece posiciones de cámara estarán montadas sobre rigs, incluyendo un helicóptero y una Spidercam.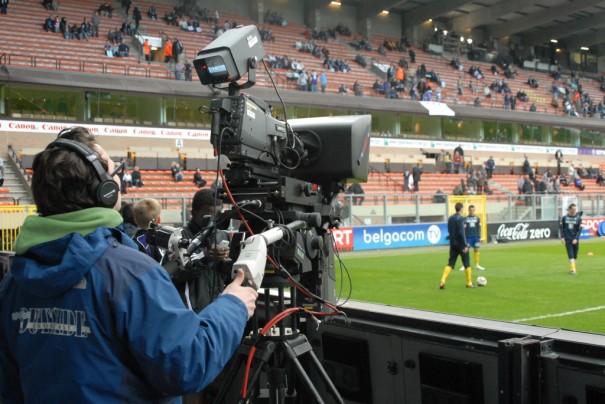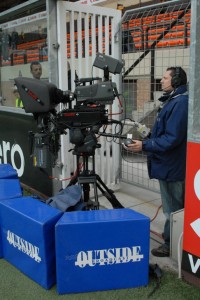 La señal de la final de la Champions League que enfrentará al Bayern de Munich con el Inter de Milán el próximo día 22 de mayo en el madrileño Santiago Bernabéiu no será solamente producida en 2D, sino también en 3D, distribuyéndose en directo a todo el mundo.
Para la realización del partido de la final de la Champions, la UEFA ha encargado a la autonómica catalana TV3 tanto la producción como la distribución del encuentro.
Para ello, instalará en el Bernabéu un total de 34 posiciones de cámara (Thomson Grass Valley), de las cuales 13 estará configuradas sobre rigs 3D, incluidas dos cámaras aéreas (una webcam instalada en un helicóptero y otra, la Spidercam, que se mueve por todo el terreno de juego.
Esta realización en 3D de TV3 irá a cargo de Paulí Subirá y Àngel Muñoz, y la aportación tecnológica la hará la empresa belga Out Side Broadcast.
Pireneus des de l'aire
Por otra parte, la autonómica catalana comenzará a partir de ahora la emisión regular en 3D de algunos de sus espacios, comenzando a través de su canal en pruebas TV3HD con la serie Pirineus des de l'aire.
Esta serie documental de seis capítulos ofrece un recorrido aéreo de la zona pirenaica para mostrar una perspectiva que el espectador no tendrá posibilidad de ver jamás.
Pirineus des de l'aire fue grabada en alta definición, empleando el sistema Cineflex, único en Europa. Su calidad de imagen, las características de los lugares grabados (las perspectivas vistosas de las montañas de los Pirineos) y los recursos técnicos utilizados (HD, helicópteros) garantizan la espectacularidad de la imágenes ofrecidas en 3D.
Otras emisiones que se ofrecerán en formato estereoscópico serán producciones hechas originalmente en 3D, como la obra teatral Màxima de Llits, The film Somnis o la producción de Jordi Llompart Viake mágico a África, estrenada recientemente.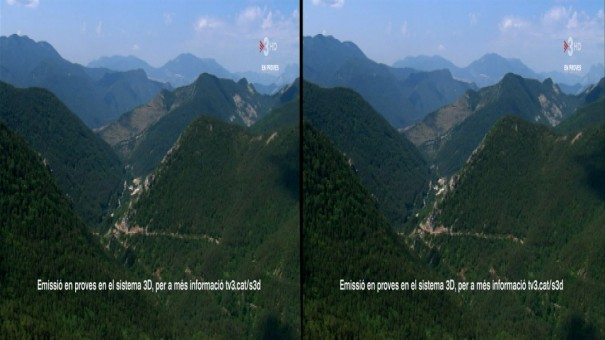 Side by side
TV3 se ha decantado para sus emisiones estereoscópicas por la producción 3D en configuración side by side, enviando dos imágenes por un mismo canal, una destinada al ojo derecho y la otra al ojo izquierdo. Lo que vería un espectador en una televisión no adaptada al formato estereoscopio, o 3D, es la pantalla dividida en dos imágenes, aparentemente iguales. Un aviso sobreimpreso avisará al espectador de la emisión en pruebas que se está realizando. Las dos imágenes de la pantalla presentan pequeñas diferencias difícilmente detectables a simple vista, pero los aparatos de televisión adaptados a la tecnología 3D unen las dos imágenes, y las muestran como una sola.
Por otra parte, la selección del horario de emisión de la serie Pirineus des de l'aire, los sábados a las 18.00, permitirá a los establecimientos comerciales de venta de aparatos de televisión aprovechar esta emisión del canal en pruebas HD de TVC para mostrar a sus clientes esta nueva tecnología.

Did you like this article?
Subscribe to our RSS feed and you will not miss anything.
Other articles on 3D, < a href = "http://translate.googleusercontent.com/translate_c?depth=1 & hl = in & prev=/search?q=aja+helimedia&start=10&sa=N&rlz=1C5CHFA_enUS504US504&espv=210&es_sm=119&biw=1197&bih=907&tbs=cdr:1,cd_min:12/4/2013,cd_max:12/11/2013 & rural translate. google. com & sl = is & u = http://www.panoramaaudiovisual.com/en/tag/cineflex/ & usg=ALkJrhhJ78KTrjM083PzTHLrK57vIDNaDw" rel="tag"> Cineflex ",

Out Side Broadcast

, Thomson Grass Valley, TV3
Otros artículos relacionados