South Africa lifts the curtain from the spectacle of football
Comienza en Sudáfrica el espectáculo del fútbol, comienza el espectáculo de la imagen. Si bien en los partidos de liga tradicionales se trabaja con una media de entre 12 y 18 cámaras, los partidos del Mundial de Sudáfrica 2010 se seguirán con no menos de 29 a 32 cámaras en alta definición y en numerosos partidos… en estereoscópico. En este artículo desvelamos todos los secretos de cómo en apenas diez años se ha revolucionado la forma de producir el deporte rey duplicando el número de cámaras que se utilizan por cada partido, generalizando los nuevos sistemas super motion e hyper motion, entrando de lleno en la alta definición y el 3D, y olvidando la cinta en favor de entornos avanzados de producción multiplataforma que permiten acceder constantemente a todos los partidos, a múltiples entradas, y a todos los ángulos de cámara para asegurar mayor espectáculo del mundo.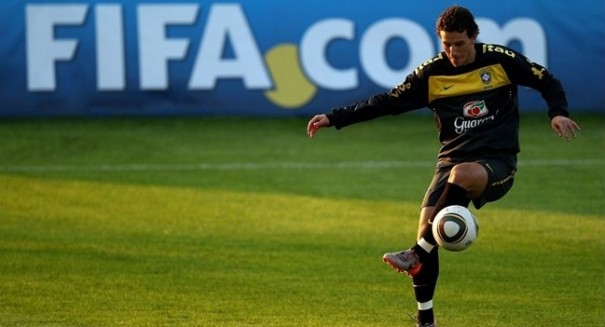 ¿Cómo se configura el IBC en un Mundial íntegramente en alta definición, sin cintas, en sonido 5.1 y con la producción de numerosos partidos por vez primera en estereoscópico y miles de señales satisfaciendo la ingente demanda multiplataforma?
Como ya ocurrió en los Mundiales de 2002 y 2006, Host Broadcast Services (HBS), filial de Infront Sports&Media, será la encargada de producir desde hoy las señales internacionales de radio y televisión, así como de brindar otros servicios e instalaciones para los broadcasters acreditados en el Mundial de la FIFA. También tiene la misión de construir y operar por adjudicación de la FIFA el IBC. HBS se ocupará de organizar las operaciones y la infraestructura de radiodifusión. Entre sus tareas están la producción y transmisión de las señales internacionales de audio y video, así como la facilitación de los servicios y las instalaciones necesarias para los poseedores de los derechos y licencias a fin de satisfacer sus requerimientos de producción. De esta manera, los broadcasters poseedores de derechos de todo el mundo pueden utilizar las señales procedentes de cada una de las sedes, añadir sus comentarios y personalizar la emisión que enviarán a sus propios países. Las transmisiones unilaterales son producidas por los radiodifusores poseedores de derechos, y son utilizadas para complementar la cobertura de broadcaster local.
Over the past years, HBS has launched drastic changes in the way to manage the transmission from the host of sports events of the first order.
Among the many partners that HBS will have to cover the World Cup, this time we will focus on EVS Broadcast Equipment, the Belgian company that has revolutionized the sector of live transmission with its innovative system of slow motion live.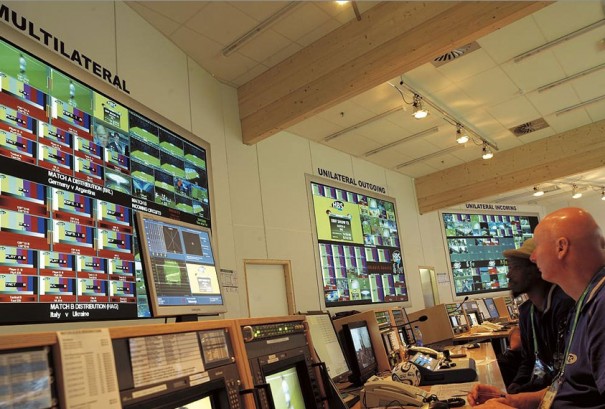 HBS and EVS: a decade of innovation
During the last ten years, these two companies have worked closely to promote the field of transmission from the host of sports events of great magnitude. Long-term collaboration between HBS and EVS has been a real revolution when it comes to spreading this type of competitions all over the world.
One example is the innovative Media Server produced by EVS, which was used for the first time by HBS during the 2006 FIFA World Cup. It was the first of its category and significantly raised the bar in terms of reliability, connectivity and speed, to the point that it was described as "the sensation of the Championship" by many transmission companies. For the 2010 World Cup, you will be called FIFA Max Centre and will allow licensees of the FIFA Media rights to access recordings of the 2010 FIFA World Cup from a dedicated system where he can consult and Exchange content, register and access material in complementary color picked up by FIFA TV ENG staff.
We find another example in the Clips Compilation Channel that allows transmission companies to access content generated in the meetings that are not part of the main entrance of the party. Live slow machines generate more than 1500 clips per game, and only a part of them passed to the main entrance. Under normal circumstances, the angles 'unseen' are transmitted during the break after the first part and right after the party, but in many cases the material too late so that I can include in the Live Studio programming. The Clips Compilation Channel provides access to these clips 'unseen' instantly and transmits the best angles in slow motion to the Media Server.
Transmissions over the years
The sector of the transmission from the host country has changed considerably during the past ten years. This field has sophisticated for a few years to this part that the expertise of specialized companies has become virtually indispensable. This vital task, which long ago a real burden for the companies of transmission from the host country, has now become a logical and profitable business. As it increases the complexity and sophistication of the transmission from the host country, most important is to rely on the experience.
Among the most impressive achievements that have with HBS and EVS, is the first fully digital transmission as a host of the FIFA World Cup (specifically, that of Korea-Japan 2002) with its original services "multi-entry". Another milestone occurred in 2006, during the World Cup of FIFA in Germany. This sporting event became the first who enjoyed full coverage in HD, and allowed the incorporation of Media Server and channel Compilation Clip, spurring the transmission and put in common content in a tapeless environment.
In 2008, HBS France produced the first international signal for mobile signals from the French first division. In this year also offered for the first time a stereoscopic 3D of the IIHF World Championship coverage. The three-dimensional experience was repeated in April 2009, during the football match between Olympique Lyonnais and Paris Saint-Germain FC.
The technological progress that HBS and EVS have managed to move forward during the last ten years is actually the most significant of the last half-century. This progress is reflected in aspects such as the doubling of the number of cameras used by each party, the new super systems motion and hyper motion), the arrival of high definition and now stereoscopy, and the incorporation of environments without tapes with the media as heart server allowing to constantly access all matches, to multiple inputs, and all the camera angles produced by the company's transmission for multilateral coverage. In this way it is possible to continuously to all parties, multiple entries, and all the camera angles produced by unilateral transmission companies to access. Also strides have been taken in the exchange of content between transmission companies, as well as between transmission companies and the relay as a host (using the Media Server "Stock Exchange", as it is known in the industry), finally highlighting the introduction of dedicated mobile transmission and access simultaneous and real-time remote control and Internet consultation.
Capture playback
Thanks to its designation as a transmission company from the host country of the 2010 World Cup in South Africa, HBS has decided to renew its collaboration with EVS tapeless technology providing instant and support services during the production of this event of great importance internationally.
EVS technology will be employed at different levels of the production of transmission, as the live production of the 64 matches outdoors, where EVS systems to generate the repetitions to the camera is slow, slow enables and ultralente live, as well as the compilation of the best clips and the creation of highlights will be employed.
EVS also provides a solution for multi-input capture and exchange of media in full HD from a media server; the solution is based on an advanced infrastructure network XT [2] , which offers instant access to any content recorded during the competition, with advanced search systems and consulting in low resolution. This allows the transmission companies to easily share audiovisual content. The contents recorded and reported in the media server include 9 different inputs from the countryside, in addition to files ENG 40 reporting equipment.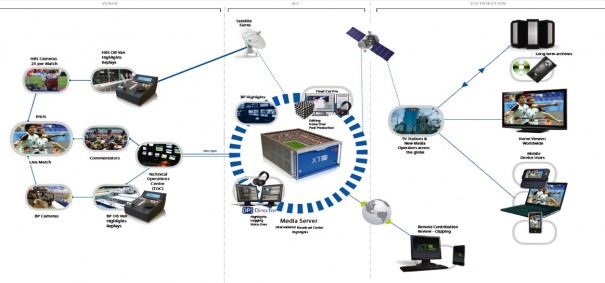 In order to maximize remote access to content, HBS has decided to introduce the system of server based on Internet to already be used by HBS for the production of the first division of France. The system (known as EVS XT [2]) will allow transmission companies to access and consult ENG edited sequences produced by the ENG of HBS equipment at different sites in a solution online to download them in SD or HD.
Xedio, editing of EVS solution, will be the tool to HBS editing equipment used for the production of news 24/7, and provide remote access to files ENG through advanced online production systems.
In addition, EVS will work with HBS to provide different transmission companies (known in the jargon of FIFA as "Media rights licensees") navigation tools to access, consult, crop and import material for their own production staff.
Last, but not least, EVS systems will manage the capture of inputs dedicated to mobile with live transmission on Apple XSAN and the FCP editor for instant broadcasting to mobile network services.
Production at the sites
While the traditional League parties are recorded with an average of between 12 and 18 cameras, matches of the World Cup will follow with no less than 29 to 32 cameras. In addition to the standard cameras, HBS will manage a series of super ultra motion and motion cameras. In order to ensure the production of the direct repeats, repetitions of actions to slow motion, highlights and close-ups during a live football match, all cameras recorded on the servers of video production from EVS installed in mobile units adjacent during the event.
World Chambers plan 2010

Standard plan 29 cameras (25 in the 2006 World Cup)

Up to 32 cameras for certain parties

1 Additional ultra Motion
The world's first 3D

FIFA will produce for the first time in history a 3D world. Thanks to an agreement reached with Sonyup to 25 matches South Africa 2010 will be produced using Sony professional cameras, which provide coverage of the action with a depth, vividness and excitement to viewers around the world unprecedented.
Recording multi-camera
They will be displayed around 130 XT servers [2] in the fleet of OB trucks that will work at various sites in South Africa. These advanced digital video recorders manage the acquisition of all the cameras surrounding the playing field. They are based on a process of recording loops, so not a single plane is not lost. Its architecture oriented live (with a high degree of redundancy and fault tolerance, to avoid interruptions in the flow) guarantee a maximum degree of control for instant replays, highlights Edition, compilation of the best clips and graphic overlay managed by outdoor production team during the parties. Each server can capture and simultaneously control multiple inputs (up to six tickets per server).
During the production of a party, all XT servers installed in the OB units are interconnected, allowing operators and production equipment to Exchange content and control the audiovisual material recorded on this network XT [2] . All XT [2] are grouped using a dual network of exchange of content (on the one hand, XNET network [2] high bandwidth SDTI, and on the other, the Gigabit Ethernet standard network). Any entry recorded on a server can consult, crop and play from any other server. This allows operators to share clips and highlights with other operators, in order to gather the best sequences and actions that will be later transferred to Johannesburg international broadcast Center.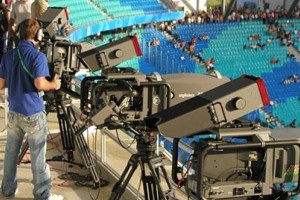 During the production of matches in OB trucks, numerous channels In & Out XT will be controlled by multiple systems, such as the remote controller MulticamLSM for all occurrences of slow motion, super motion and ultra in direct motion, as well as actions multicamera trimming, creating highlights and close-ups. In addition, the HBS production equipment will drive EVS LSM drivers to mark the positions of the offside of the players through the graphic superposition of a virtual line offside, who has recently joined the system. In total, more than 150 drivers LSM will be used, managed by LSM operators highly qualified and selected by the production of HBS for the operations of slow motion and other related direct repeats.
For his part, IPDirector to capture multi-camera and the network XT [2] to control network, consultation and registration operations. In addition, HBS will use the module IPEdit nonlinear editing IPDirector, to the creation of highlights and clips collection. With IPEdit, HBS publishers enjoy access and control instant channel recording XT [2] , without transfer, encoding and decoding of content. The IPDirector also serves to handle the transfer of clips and sequences to third post-production systems used by HBS.
Live editing operations
A total of 150 MulticamLSM systems, designed to manage all operations from direct repetition, as the slow-motion, super motion (cameras 3 phases) and ultra motion (used EVS for all occurrences of strings of Ultra Motion camera with up to 1000 frames per second) will be used at the different sites. In addition, HBS LSM operators will use the system of creation of highlights on the fly and close-ups that will play during dead periods or to illustrate interesting actions that occur during the game (such as goals, inputs or reactions of the public).
Compilation of the best clips and nonlinear editing quasi direct
The production of HBS is responsible for collecting the best sequences and repetitions at the sites during the matches. These sequences compiled as a single entry (known in the jargon of FIFA as "Clip Compilation"), will be transferred to IBC and transferred to the media server so that all equipment of production of HBS and licensees can access to them. The creation and compilation of clips by HBS teams in mobile units will be handled with the tools MulticamLSM and IPDirector EVS to the creation of clips and playlists management. The collection of clips will bring together the best actions recorded in the XT servers [2] during the match, as angles of goals multi-camera, reactions of the public, as well as super motion and ultra motion sequences.
In order to facilitate the compilation of the best actions, repetitions and clips, HBS teams working in units with software IPDirector OB will have access in real time to all records created by HBS teams through the interface IPLogger Johannesburg IBC.
The tool (the new nonlinear editor IPDirector) EVS IPEdit will be that use of OB for highlights and production sequences prior to matches, with transition effects based on a comprehensive nonlinear editing solution. Thanks to its direct integration and control of servers XT [2] , publishers will have access to tickets instantly MultiCam and Add sequences and clips with only move and paste. IPEdit allow editing in brief format, such as creating highlights and close-ups. Thanks to IPEdit also provides access to multiple channels over all the media network (you can create up to two chronological sequences for each server XT [2] ), HBS WINS in speed and efficiency.
EVS technology at sites

150 MulticamLSM remote controllers for repetitions to live slow motion, super motion and ultra motion, as well as creating lines of offside

20 IPDirector to catch, consultation, edition of highlights and content management

20 pallets of removable storage XF [2]

32 Xedio Media Dispatcher (for trimming, Assembly and shipping of P2 ENG files)
Creation of virtual offside live lines
For the very first time, HBS introduced the creation of virtual lines offside in the international gateway. The creation of graphic overlay offside line is managed by EPSI EVS system. This new solution will allow that LSM operators (using remote controllers standard EVS LSM) instantly generate a graphic overlay with automatic recognition of the limits of the field of play. The operator only has to manually adjust the line of play with the wheel on the remote LSM. Thanks to an Assistant of calibration (requiring a single use for each event), whereby each camera sends images of the pitch with predefined angles to the system, EPSI is able to recognize instantly and automatically so the playing field during the actions, and virtually draw lines of offside within the limits of the field of play. This operation, a second in duration, can be selected with a single button. The special preview of the graphic overlay will ensure the availability of the lines of offside when the director decides to repeat the action.
Consultation and transfer remote/from the IBC
In order to increase the availability of angles multi-camera production equipment located in the IBC, added complementary consultation IPDirector (IPBrowser) stations; they will help navigate and view camera angles not seen once finished the match. The IPBrowser of the IBC will be connected to the database IPDirector located in the OB van of the site in question through an Ethernet line. The operators of the IBC may consult each clip, as well as their related camera angles (not seen). Operator may return the clip in high resolution at IBC for the preparation of news and issues.
The media server FIFA MAX (Media Asset EXchange)
In order to expand the creative capacity of enterprises of transmission during sports events of the first order, HBS introduced the EVS Media Server in 2006, featuring the HBS production equipment and 24/7 transmission companies access to all contained engravings, such as the director's selection, multiple cameras, camera angles ISO and collections of the best clips. In addition, ENG recordings were instantly available for production and post-production operations.
Facts and figures of FIFA MAX / Media Server

3,000 hours of content in HD

50 HD XT servers [2] (DVCPRO HD), which offer a total of 360x300GB = 1900 h @ 108 Mbps

XStore content store [2] 220 × 300 GB = 1100 hours of content in high resolution

140 IPDirector for registration, consultation and content management

6 XF [2] removable storage drives

32 Xedio Media Dispatcher (selection, cut and P2 file transfer)
The Media Server is a fully integrated EVS production servers group. Conceived from tapeless technology EVS instant, Media Server combines an optimized hardware (XT servers [2] ) with software solutions to manage the Exchange and sharing of content with the maximum guarantee of speed and security, covering indexing (based on intelligent systems of record) of entries and content inbound, backups and archiving of audiovisual content.
For the South Africa World Cup, the EVS media server, known as the FIFA MAX (Media Asset eXchange), will manage the capture and exchange of no less than 3,000 hours of content in HD.
During the competition, teams of production of HBS and licensees of the rights of the media may access material as inputs of parties, compilation of clips, materials and brief ENG, special content, series of tools FIFA, profiles of cities, sequences analysis and statistics, summaries of matches, world update programs, selections isolated camera recordingstraining equipment, interviews and press conferences, highlights MD-1, musical sequences, Exchange Media for licensees...
During each match, 11 HD XT servers [2] recorded 9 entries produced by HBS offering: BIF (international gateway transmission), CIF (international gateway clean), entries tactics, players and teams, compilation of clips (created by operators of HBS from MulticamLSM of EVS systems in mobile) and tickets for Live Mobile.
The production of two games simultaneously at the beginning of the competition implies that the system has had to optimize to make it capable of supporting the capture of 2 x 9 inputs simultaneously.
Search operations
HBS teams recorded content recorded on the EVS media server via EVS IPDirector systems.
In total, eight registration stations will be used to add descriptive tags (records) to the audiovisual entries recorded on the media server FIFA MAX. Two registrars will be devoted to operations of the CSF registration and the collection of clips in each match (in case of 2 simultaneous games, 4 in total). Three stations will be devoted to material ENG registration and facilitation of content for imported from the system licensees. Another station for monitoring tasks will also be.
ENG operations, capture and query online
HBS will have a total of 40 ENG teams that will be organized in 32 teams that will follow every team on the pitch and 8 teams throughout the host country, which will gather content related to the World Cup, as content related to matches and fans, South African culture, attractions and events on the ground.
All teams working with camcorders Panasonic P2 send their gross edited shots and their brief to the International Broadcast Centre on a daily basis; the shots will be recorded immediately and will be made available on the media server to query and download by production of HBS and licensees. The operations of Thomas gross is operated by Xedio Media Dispatcher of EVS system, to select, group, crop, register and export P2 files, in the format appropriate to the Media Server in Johannesburg. In total, they will be produced and shared between 20 and 25 hours of content every day.
In order to increase the availability of ENG cuts to licensees, HBS has developed a new solution that offers web browsing and downloads for the transmission companies functions. TV and Radio licensees are new customers who will use the new services developed with the XT [2] EVS Web platform. This platform combines transmission technology with a web-servidor system that is currently being used by clubs, referees and disciplinary of the first division of France football committees.
The XT [2] Web system will allow remotely consult content of video and audio over the Internet, as well as download content ENG edited the transmission companies that have opted for services licensees TV or radio. Once captured in the media server, ENG edited content and its associated metadata (records) are automatically sent to a secure Internet format server proxy (MPEG4 H264). Licensees who are abroad may consult hours of content ENG edited using keywords descriptive metadata to facilitate your search. Once you have found and selected the contents (audio/video or just audio) and have deposited them in your cart, licensees have the option to request high resolution SD or HD format file. The transfer operation is managed automatically by the system SmartJog associated with media server and the EVS database. High resolution audio files can be imported locally by solving XT [2].

Capture and broadcast of live tickets for mobile
HBS will manage the production of an entry for mobile which will be provided to subscribers to FIFA for mobile Telco networks. In order to offer high quality recordings, HBS will provide one input dedicated for mobiles. A dedicated production team will work in the production of the entry for mobile. A special mobile production will replace the main entrance of the Chamber with a dedicated camera (which also filmed from the main platform) in order to offer shorter plans and actions with greater visibility in mobile devices.
The production of HBS mobile consist of one entry clean produced on the site (by means of a specific camera mobile mixed with other angles and at an angle that suits the small screen of a mobile phone), an entry that is sent to the IBC (dedicated to the production of packages for mobile as well as untreated version produced for distribution) with mobile specific graphics designed for dedicated distribution.
Dedicated to mobile entry produced at the site will be captured by the media server with transmission live on the Apple XSAN Server; This will allow an FCP editor who works in the production of content for mobile (voice-over, editing and presentation equipment specific) work in the edition during the live production.
Consultation and exchange of content
To take advantage of the functions of the media server FIFA Max Exchange, licensees can choose between different sources of consultation and import the configuration options, as the IPDirector EVS for consultation in low resolution for Media Server, create clips, and import of clips of high-resolution HD (DVCPRO HD) locally. Depending on the option, install a dedicated server HD XT [2] on the premises of licensees (at IBC) with an additional IPDirector for consultation and creation of clips in high resolution.
Sony da tridimensionalidad al Mundial
Did you like this article?
Subscribe to our RSS feed and you will not miss anything.
Other articles on
3D
,
Apple
,
EVS
,
Final Cut Pro
,
HBS
,
P2HD
,
Panasonic
,
Sony