ARRI and Colorfront join efforts to facilitate digital dailies
ARRI y Colorfront han lanzado en IBC 2010 un nuevo producto digital para "dailies", el Colorfront On-Set Dailies, diseñado para su uso con la Alexa y la ARRIFlex D-21. El nuevo conjunto de herramientas On-Set Dailies ha sido ejecutado durante los últimos dos años y aprovecha la experiencia directa obtenida en series de televisión como
The Pillars of the Earth (Los pilares de la tierra)
y largometrajes como
The Debt (La deuda).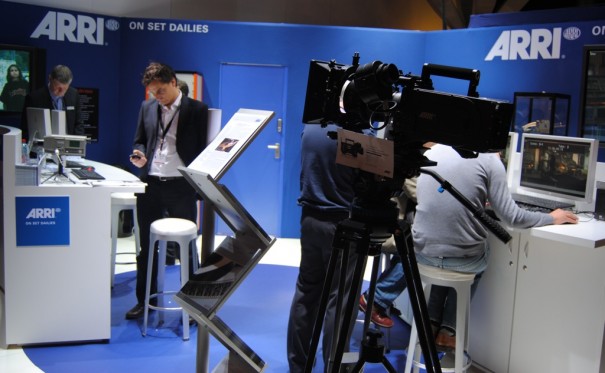 ARRI y Colorfront han lanzado en IBC 2010 un nuevo producto digital para "dailies", el Colorfront On-Set Dailies, diseñado para su uso con la Alexa y la ARRIFlex D-21.
El nuevo sistema, que esta suscitando mucho interés en la feria, incluye herramientas para playback y sync, QC, gradación de color, gestión de audio y metadata y entregables simultáneos más rápidos que en tiempo real en formatos normales de archivo.
Junto a los beneficios obtenidos por las producciones que utilizan las cámaras digitales ARRI, el sistema de Colorfront puede ser integrado en cualquier flujo de trabajo digital de dailies, facilitando así la comprobación del material grabado y los flujos de postproducción. Su lanzamiento comercial esta previsto para el cuarto trimestre del año.
El motivo por el que mejor se conoce al equipo de Colorfront es por el desarrollo del sistema de calibrado Lustre de Autodesk. El nuevo conjunto de herramientas On-Set Dailies ha sido ejecutado durante los últimos dos años y aprovecha la experiencia directa obtenida en series de televisión, incluyendo The Pillars of the Earth (Los pilares de la tierra) y largometrajes como The Debt (La deuda), íntegramente filmado en Hungría, donde Colorfront tiene su sede.
Markus Frees, Director de Ventas DI para Arri en la región EMEA, ha comentado en Ámsterdam que "los On-Set Dailies de Colorfront representan el complemento lógico al flujo de trabajo que se encuentra detrás de la Alexa y la D-21 y más allá de esto también en todos los dailies digitales en los que se utilizan escáneres como el Arriscan, telecine, además de otras cámaras. En lo que se refiere a productividad y ahorro en costes, será tremendamente útil para los realizadores".
El On-Set Dailies de Colorfront tiene una interfaz basada en nodo; puede introducir archivos media desde escaneados de película, capturar cinta, grabadores de disco y estado sólido (solid state); y sincroniza archivos de audio con la imagen.
Sus capacidades para procesar imagen incluyen corrección de color primario y seleccionados, aplicación de 3D LUTs, impresora-luz y compatibilidad ASC CDL, herramientas de redimensionado de imagen y opciones de "burn-in". También funciona con media estereoscópica 3D, permitiendo ajustes estereoscópicos de color y posición y organiza las tomas en rollos y cintas para entregables, serígrafos y funciones de archivo.

Did you like this article?
Subscribe to our RSS feed and you will not miss anything.
Other articles on ARRI, Colorfront, IBC
Otros artículos relacionados