Industry awards excellence in the IBC Awards
El Premio de Honor a la Excelencia ha recaído en esta edición en Manolo Romero, director general de Olympic Broadcasting Services. La Red Bull Air Race, el archivo del Parlamento Europeo, la cobertura del Mundial de Sudáfrica, el lanzamiento de Sky 3D (BSkyB), la plataforma Freeview británica en DVB-T2 y la tecnología Flutuador desarrollada por TV Globo en Brasil para denunciar la contaminación de los ríos, han sido en esta edición algunos de los premiados.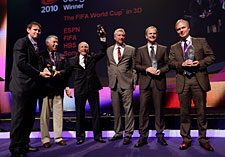 Los IBC Awards de este año se iniciaron con un anticipo del próximo éxito de taquilla en 3D, Tron: Legacy de Walt Disney Pictures, tres meses antes de su lanzamiento. Iniciada la recemonia, el Premio de Honor a la Excelencia recayó en esta edición en Manolo Romero, director general de Olympic Broadcasting Services. Desde su posición como ingeniero de soporte técnico en TVE en los juegos de México en 1968 hatsa la dirección general de OBS, Romero ha sido un hombre clave en el desarrollo mano a mano de la televisión y el olimpismo.
"He sido muy afortunado de trabajar en muchos acontecimientos deportivos en los que han sido capaces de utilizar el estado de la tecnología de punta e innovaciones. Con la ayuda de muchos colegas, hemos dado pasos importantes en el desarrollo de la cobertura televisiva de deportes. Me siento honrado de aceptar este premio y dedicárselo a todos los amigos y colegas que han contribuido a través de los años, y a aquellos que continúan luchando por la excelencia en la radiodifusión en el futuro", afirmó Romero al recoger su galardón.
Premios a la Innovación
Aunque había candidaturas impresionantes sobre el deporte estereoscópico a ESPN y la gestión loudness para la cobertura de NBC Olimpiadas, el jurado internacional dio el premio de creación de contenidos a la Red Bull Air Race por su uso de la fibra en la distribución de contenidos y las comunicaciones. Riedel Communications junto a SIVision Outside Broadcast y West4Media Production han sido merecedores de este importante galardón.
Los finalistas en la categoría de gestión de media fueron la redacción multi-plataforma de Antena 3 en España y el archivo del Parlamento Europeo que recupera medio siglo de audio y vídeo. Finalmente se impuso esta instalación con Front Porch Digital y Broadcasting Center Europe como integradores.
Los dos finalistas en emisión fueron la red de radio digital DAB en Australia, por ABC y SBS, pero el ganador fue el desarrollo de DVB-T2 como plataforma digital terrestre del Reino Unido. BBC I+D dirigió el proyecto en nombre de DVB.
Premio Especial del Jurado
El Mundial es siempre un acontecimiento televisivo masivo, 700 millones de personas vieron la final de este año. Con el interés de la televisión en 3D estereoscópico en aumento, la decisión fue tomada a principios de 2010 para cubrir una serie de juegos en vivo. A pesar de los muchos desafíos y las escalas de tiempo muy ajustado, 25 partidos se les dio el tratamiento 3D, incluyendo la final.
Por el gran esfuerzo desarrollado en la cita de Sudáfrica, el premio especial del jurado ha ido a parar a la colaboración estrecha entre FIFA, su partner HBS, el canal ESPN y el soporte técnico de Sony.
Por último, la organización de IBC también quiso reconocer el lanzamiento de Sky 3D a principios de este año, y la campaña de denuncia impulsada por TV Globo en Brasil apara salvar de la contaminación el río Tietê, utilizando para ello Flutuador, un dispositivo flotante que proporcionaba mediciones e imágenes con el fin de crear conciencia entre el público y, en última instancia, los políticos.
Palmarés IBC Awards 2010

International Honour for Excellence
Manolo Romero

Special Award
Flutuador, TV Globo Network

Special Award
Sky 3D channel, BSkyB

Innovation Award Judges Prize
FIFA World Cup en 3D, ESPN, FIFA, HBS, Sony

Innovation Award Content Creation
Red Bull Air Race, Red Bull Air Race
3D en directo, ESPN (finalista)
Loudness para los Juegos de Vancouver (finalista)

Innovation Award Content Management
Migración digital y archivo del Parlamento Europeo
Gestión de media multiplataforma en Antena 3 (finalista)

Innovation Award Content Delivery
DVB-T2 para TDT HD, Freeview
DAB+ en Australia (Finalista)

Best Conference Paper
Does size matter? The impact of screen size on 3D', NDS

Exhibition Design Awards
Best Larger Free Design Stand – WASP3D, .B62
Best Smaller Free Design Stand – ioko, 1.A50
Most Imaginative Use of Shell Scheme Space – Wenham Carter International, 3.C01
Did you like this article?
Subscribe to our RSS feed and you will not miss anything.
Other articles on DVB, ESPN, HBS, IBC, NBC, OBS, Riedel, Sony, TV Globo
Otros artículos relacionados