Informativos Telecinco, prize for the best report in the ENEX
El reportaje "La frontera de la discordia", que narra la situación de los más de 2.000 porteadores que atraviesan a diario la frontera de Melilla con Marruecos con pesados fardos, obtiene uno de los preciados galardones otorgados por ENEX, organización no lucrativa para el intercambio archivo de noticias y servicios de transmisión televisiva integrada por CBS (EE.UU.) y TBS (Japón), junto a las principales cadenas europeas, entre ellas Sky News (Reino Unido), RTL (Alemania), M6 (Francia) y SIC (Portugal).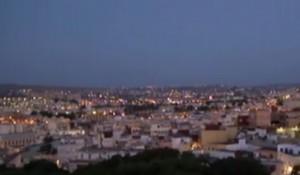 El reportaje La frontera de la discordia del equipo de reporteros de Informativos Telecinco ha recibido el premio anual ENEX (European News Exchange) al mejor reportaje. El galardón lo entrega la asociación de televisiones privadas, que engloba a las principales cadenas de Europa, además de la CBS de Estados Unidos y la TBS de Japón.
El reportaje, realizado por Gabriel Cruz (redactor), Fernando Hernández (cámara) y Miguel Guzmán (montador), narra cómo discurre la vida por el paso fronterizo del barrio chino en Melilla. En él se congregan alrededor de 2.000 marroquíes que cruzan hacia España para cargar pesados fardos de hasta 75 kilos con destino Marruecos. Si esos mismos bultos los transportasen en camión tendrían que pagar aranceles aduaneros, así que lo hacen a pie para que se considere equipaje de mano y, por tanto, libre de impuestos.
El resultado de esta formalidad burocrática es un enjambre de porteadores que se pelean por poder pasar cuanto antes sus fardos. Por cada uno de ellos se llevan 5 euros. Al día, se si dan mucha prisa pueden cruzar tres veces, con lo que ganan más y en menos tiempo que trabajando en la construcción. La competencia es feroz y las condiciones penosas. Cargan en un desierto a unos 30 grados, sin agua ni aseos. Cuando llegan las lluvias la situación es aún peor. Hay jóvenes, ancianos, mujeres y hasta algún minusválido que ata a su silla la carga.
La lucha entre ellos es tal que en ocasiones se han provocado avalanchas. Una de ellas acabó con la vida de una porteadora hace dos años. Lo que impide que la cosa vaya a mayores es el trabajo de la Guardia Civil española, que intenta poner en orden una marabunta cuyo único objetivo es pasar su mercancía.
32 televisiones privadas de Europa, Japón y EE.UU en el ENEX
La European News Exchange es una organización sin fines de lucro creada en 1994 para el intercambio de material de archivo de noticias y servicios de transmisión entre los organismos de radiodifusión televisiva.
Cada año, las 32 televisiones privadas que constituyen el ENEX votan al mejor reportaje. Entre las cadenas se encuentran las principales televisiones privadas europeas, como Sky News (Reino Unido), RTL (Alemania), M6 (Francia), SIC (Portugal) o Telecinco (España), junto a las destacadas cadenas CBS y TBS, de Estados Unidos y Japón, respectivamente.
Did you like this article?
Subscribe to our RSS feed and you will not miss anything.
Other articles on Awards, Telecinco
Otros artículos relacionados