'El Bulli: cooking in progress': Gereon Wetzel director reveals the secrets of "molecular cuisine"
El próximo 30 de marzo llegará a las pantallas españolas la película del director alemán Gereon Wetzel, fruto de pasar varios meses encerrados en la cocina-laboratorio de Ferran Adrià en Barcelona.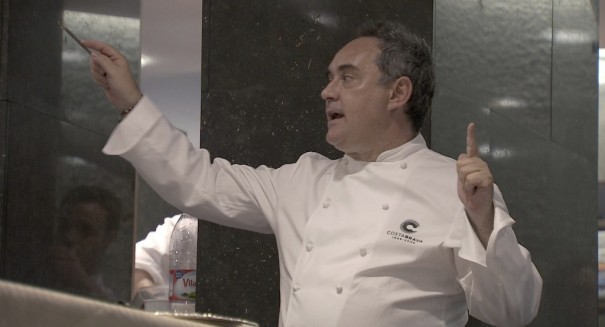 El pasado verano, El Bulli cerró sus puertas para siempre, después de haber sido durante muchos años referente de la gastronomía mundial y haber encumbrado a Ferrán Adrià como el chef más innovador del mundo.
Poco antes, el director alemán Gereon Wetzel y su equipo pasaron meses encerrados en la cocina-laboratorio de Ferran Adrià en Barcelona, para poder mostrar cada uno de los pasos de la creación de los platos que más tarde, unos afortunados comensales degustarían en el restaurante de 3 estrellas Michelin en la cala Montjoi de Roses. La creación, la inspiración, las técnicas y todos los secretos de la "cocina molecular" de Ferran Adrià, se muestran por primera vez en la gran pantalla en El Bulli: cooking in progress.
La película se estrenó el pasado verano en Nueva York donde estuvo en cartel durante varios meses, consiguiendo el apoyo del público y la crítica. Después El bulli: cooking in progress se estrenó en cines de Holanda, Alemania, Austria, Francia y Japón (donde la película ha recaudado más de 300.000 dólares).
Tras su paso por la sección Culinary Zinema: Cine y Gastronomía del Festival Internacional de Cine de San Sebastián, A Contracorriente Films estrenará esta peculiar producción el próximo 30 de marzo.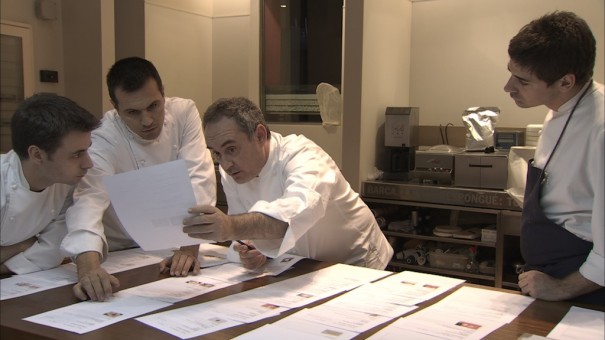 The shooting
Sobre el rodaje Anna Ginestí Rosell (Idea, producción de línea, traducción), ha comentado que "en el restaurante El Bulli solíamos rodar de día. Dado que El Bulli sirve a los clientes sólo cenas, nunca almuerzos, podíamos concentrarnos en la investigación y la preparación del trabajo. Muchos de los platos no alcanzan su forma definitiva hasta que se preparan en el restaurante, allí es donde cobran plena vida, pues en el Taller suelen ser tan sólo bosquejos. Por supuesto que teníamos que rodar un par de planos por la noche, en tres o cuatro ocasiones: el día de la inauguración, la velada en que Ferran pone a prueba su menú. Siempre permanecíamos fuera, frente al pasaplatos. La velada inaugural fue particularmente difícil, pues los camareros nuevos, numerosos, todavía no dominaba sus movimientos, y nosotros ¡estábamos frecuentemente en medio! Más tarde, nos sorteaban como bailarines".
Por su parte, Gereon Wetzel ha señalado que "la arquitectura de la cocina era óptima para el rodaje, la zona frente al pasaplatos era espaciosa. En el restaurante, es decir, en la zona de los clientes, casi no rodamos metraje por una razón: no queríamos molestar a nadie, pues al fin y al cabo es un gran privilegio comer en El Bulli. Por otro lado, se trataba de una decisión conceptual: el cine no puede transmitir el sentido del gusto por medio de las imágenes; no es posible disfrutar las cosas que comen allí; no se puede sentir la forma genuinamente diferente de comer, así que no tiene sentido rodar eso. Y, no menos importante, la gente que come tampoco tiene una apariencia particularmente atractiva, cuando menos, no disfruto observándoles. Ése es el motivo por el que intentamos describir el film entero desde la perspectiva de la cocina".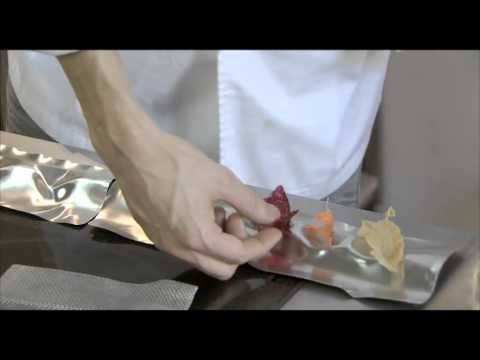 Equipo Técnico

Director Gereon Wetzel
Idea Anna Ginestí Rosell, Gereon Wetzel
Director of photography Josef Mayerhofer
Mounting Anja Pohl
Sound Daniel Samer, Gereon Wetzel
Music Stephan Diethelm
Colorista Yvonne Tran
Fotografía de la comida Francesc Guillamet
Diseño de la comida Marc Cuspinera
Asesor Josep Maria Pinto
Traducción al inglés Lonnie Legg
Servicios de postproducción de sonido Pilotstudio, Munich
Montador de diálogos, Regrabación Michael Hinreiner
Sound design Jörg Elsner
Sound effects Joo Fürst
Montaje de los efectos de sonido Joao Pinto
Asesor Dolby Norbert Zich
Coordinador de la postproducción Fabian Spang
Editor comisionado de BR Petra Felber
Editor comisionado de WDR Jutta Krug
Production Ingo Fliess
Un film de If… Productions, coproducido por BR y WDR, financiado por BKM, FFF Bayern, el Kuratorium Junger Deutscher Film, y Ernst Göhner Stiftung.
108 minutos, HD / 35mm, Dolby Digital.
Did you like this article?
Subscribe to our RSS feed and you will not miss anything.
Other articles on Countercurrent Films
Otros artículos relacionados