EditShare allows to conclude a movie.. a week
El director de cine Doug Braddock aprovecha el flujo de trabajo sin cintas de Editshare desde la ingesta al archivo para completar su película 'Mirror, mirror' en solo una semana.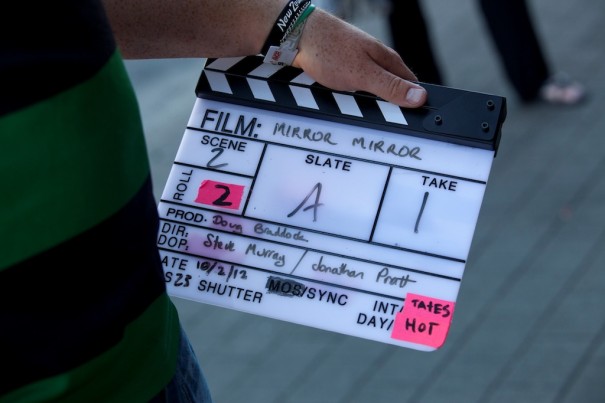 EditShare se ha unido recientemente a Doug Braddock y su equipo de producción para apoyar los
esfuerzos del equipo en la realización de una película en tan solo siete días. Su película, Mirror Mirror, ha sido incluida en el 168 Hour Film Project, una incubadora de películas de Hollywood que atrae a más de 70 equipos cada año.
El proyecto es una competición en la que los equipos de producción tienen exactamente una semana para filmar y editar una película de 11 minutos.
Braddock ha comentado que "hubo una enorme cantidad de trabajo para llevarlo a cabo. La planificación y la preparación tuvieron que ser muy meticulosas y hubo mucha libertad para que ocurrieran graves problemas técnicos. Tuvimos que entregar el master exactamente en una semana (168 horas) desde el momento de la grabación. Si hubiéramos llegado un minuto tarde, habríamos sido descalificados".
El equipo de producción de Braddock está compuesto por 30 personas, algunas con décadas de experiencia en la industria, otras con tan solo unos pocos años tras salir de la escuela de cine. Para el proyecto 168 horas, trabajaron con un elenco de cuatro actores más seis extras. Con solo unos pocos días para filmar y editar toda la pieza, el equipo utilizó las soluciones avanzadas de flujo de trabajo sin cintas de EditShare: Flow (gestión de contenidos) y Energy Series (almacenamiento compartido), con soporte desde Ark (back up y archivo). "El hecho de que todos podamos tener acceso al mismo metraje al mismo tiempo marcó una gran diferencia en nuestra eficiencia", asegura Braddock.
"Habíamos sincronizado los brutos y las pruebas de control de calidad realizados durante la filmación. Al final de la primera edición del día, tenía un conjunto listo para el compositor para empezar a trabajar", añade el director.
Un proyecto en solo una semana
Mirror Mirror, escrita por la escritora californiana April Manor, es la historia de una chica adolescente luchando contra su baja autoestima, que descubre su valor real a través de un espejo especial.
A pesar de que ha sido acreditado como montador en cinco películas y ha supervisado proyectos dramáticos, Braddock, que ha trabajado en el cine y la televisión durante 25 años, se metió en el papel de productor para un drama por primera vez con Mirror Mirror.
Asumir un proyecto cinematográfico con sólo una semana para completar es una hazaña impresionante," ha afirmado Andy Liebman, presidente de EditShare. "Estamos felices de poder ayudar en un proyecto que que permite a los cineastas, veteranos y novatos por igual, la oportunidad de aprender más sobre su oficio, ser desafiados, y trabajar juntos en un ambiente positivo. Si son capaces de crear una película de 11 minutos con EditShare ayudando a facilitar la producción y la publicación en una semana, imagínense que pueden hacer con nuestro sistema bajo un timeline de producción típico".
Braddock y el equipo empezaron a filmar Mirror Mirror el 10 de febrero del 2012 y la enviaron exactamente una semana más tarde durante la mañana del día 17. La película se estrenará en Hollywood a finales de este mes de marzo y competirá por varios premios.

Did you like this article?
Subscribe to our RSS feed and you will not miss anything.
Other articles on Editshare
Otros artículos relacionados