EIKEN and EiTB drive pilot programs through Innova Basque Audiovisual production
La iniciativa está abierta a todas las productoras audiovisuales del País Vasco. Un jurado internacional será quien elija los proyectos que se producirán y emitirán en ETB.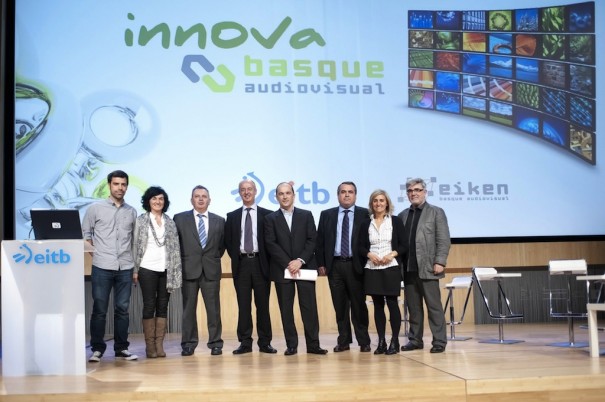 Eiken – Cluster Audiovisual de Euskadi y EiTB han anunciado la puesta en marcha de un proyecto innovador para impulsar la actividad en el sector audiovisual vasco a través de la producción de programas piloto. Bajo el nombre de Innova Basque Audiovisual, la iniciativa pretende facilitar la creación de nuevos formatos por parte de las productoras vascas, e incluye, además, la emisión de los mismos en ETB, dentro de una programación especial durante la que también está prevista la participación de la audiencia.
En una presentación abierta al sector celebrada en la sala Multibox de EiTB, en Bilbao, los responsables de esta iniciativa destacaron el carácter pionero del proyecto y las nuevas posibilidades de colaboración que abre entre la televisión pública y las productoras vascas.
En este sentido, el director general de EiTB, Alberto Surio, y el presidente de Eiken, Juan Mari Gurrutxaga, destacaron que Innova Basque Audiovisual está basada en una estrategia "win-win", en la que todos los agentes implicados obtienen ventajas y comparten riesgos limitados. La presentación también contó con la presencia de Xabier Sabalza, Director de Innovación del Departamento de Industria del Gobierno Vasco, quien felicitó a los impulsores de la iniciativa al considerarla "una garantía para afrontar con éxito -dijo- el nuevo escenario económico que se está conformando".
Según se indicó en el acto, Innova Basque Audiovisual va a permitir que las empresas puedan encontrar un apoyo económico fundamental para que las ideas "en papel", se conviertan en productos reales, lo que facilita su venta en mercados internacionales. Esta iniciativa, desarrollada por Eiken como una acción de "benchmarking" a partir de una idea identificada en el mercado holandés, tiene, precisamente, como objetivo prioritario, favorecer la salida de las empresas vascas a otros mercados. Y hacerlo tal y como, en estos momentos, lo exigen los potenciales clientes, es decir, con un programa piloto que poder mostrar, y con un dato da audiencia asociado a su emisión.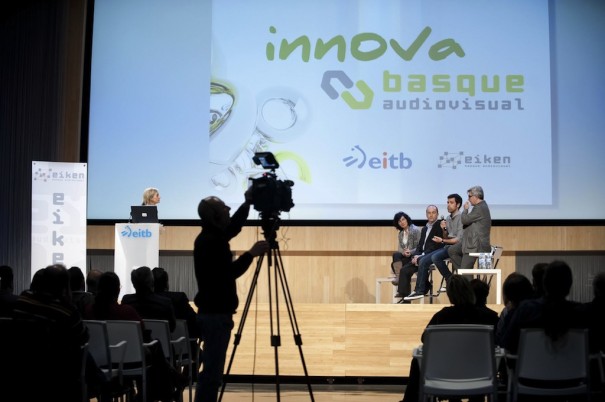 Salto hacia la internacionalización
Tal y como resaltó Patxi Arratibel, director de Estrategia y Relaciones Externas de EiTB, en su intervención, "Innova Basque Audiovisual, entre otras cuestiones, va a potenciar la competitividad y la internacionalización y va a limitar el impacto de los problemas de financiación a los que a día de hoy se enfrenta la Televisión pública vasca".
Previamente a la producción y emisión de los programas, un jurado internacional seleccionará aquellas ideas que, en su opinión, cuentan con los requisitos indispensables para convertirse en pilotos. El tribunal estará compuesto por Virginia Mouseler, Responsable del programa Fresh TV en los que están considerados unos de los más importantes mercados del mundo para TV y multiplataforma, los MIP de Cannes, Patty Geneste, Responsable de "Absolutely Independent" (Países Bajos) y jurado del programa de Nederland3 TV Lab, Pello Sarasola, Director de Contenidos de ETB, e Itziar Mena, Directora de Eiken.
El desarrollo completo de Innova Basque Audiovisual, que aspira a tener una continuidad anual, se llevará a cabo durante los próximos seis meses, por lo que ETB comenzará a emitir los programas piloto en el mes de septiembre. ETB anunciará posteriormente las características del programa contenedor y ubicación en la parrilla de programación.
Por su parte EIKEN organizará una presentación de los pilotos producidos bajo esta iniciativa en el transcurso del MIPCOM que se celebrará del 8 al 11 de octubre en Cannes.

Did you like this article?
Subscribe to our RSS feed and you will not miss anything.
Other articles on EIKEN, EiTB
Otros artículos relacionados