Harmonic continues to grow thanks to new forms of broadcast
Harmonic cierra el primer trimestre con un peso importante del área broadcast, condicionado por nuevas formas de distribución. Sin embargo, la desaceleración en Europa le pasa factura.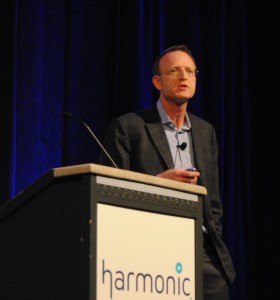 Harmonic ha presentado esta semana sus resultado del primer trimestre quedando patente el buen momento que vive la compañía gracias a su apuesta por el mercado broadcast.
Patrick Harshman, presidente y CEO, aseguraba esta semana ante analistas financieros en Wall Street que "las empresas que producen y crean contenidos, están cada día en una posición más fuerte. Estas empresas, cada día distribuirán más contenidos no sólo a los agregadores, sino también directamente a los consumidores. Y aquí Harmonic tendrá mucho que decir".
"Queremos hacer negocios con todo el mundo que es alguien en la distribución de contenidos ya sea vía satélite directa al hogar, operadores de IPTV y de cable de gran tamaño. Sin olvidar nuestra cada vez mayor presencia en bropadcaster tradicionales como Turner o BBC", aseguró Harshman.
En los últimos 12 meses, el negocio del cable ha representado para Harmonic el 46 por ciento de su negocio, frente al 22% en satélite y telco, y el 23% en broadcast y media. Éste último área creció en un 17% con respecto al año anterior.
"En realidad, fue el principal motor de nuestro crecimiento el año pasado. Es más, aún así, creemos que no lo hemos aprovechado plenamente…", aseguró Harshman.
Los ingresos netos para el primer trimestre fueron de 127,7 millones de dólares en comparación con los 132,8 millones de dólares del mismo periodo de 2011. En gran parte, esto se debería a la desaceleración que experimenta el mercado en Europa, región en la que Harmonic concentra un 25 por ciento de su actividad.
"Claramente hemos notado una desaceleración de la demanda en Europa. El año pasado fue un año récord para nosotros en Europa, principalmente en el último trimestre que fue realmente record. Sin embargo, vivimos una fuerte desaceleración de la demanda en este primer trimestre de 2012. No creo que se deba a una pérdida de cuota de mercado ya que nuestra competencia está en la misma situación", reconoció Harshman.

Did you like this article?
Subscribe to our RSS feed and you will not miss anything.
Other articles on Harmonic
Otros artículos relacionados