Unreal Engine publie la version 4.27, remplie de nouvelles fonctionnalités pour la production virtuelle

Jeux épiques
has updated its
Moteur irréel
graphics engine to version 4.27 with a number of important new features for the virtual production environment.
Thanks to the new 3D Config Editor included in Unreal Engine 4.27, nDisplay configuration for LED volumes or other multi-screen rendering applications is simplified. This is not the only new feature in this area, as Epic Games has taken the opportunity to group all nDisplay-related functions and settings in a single point, making it easier to access the functions. Similarly, Unreal Engine version 4.27 streamlines the configuration of multiple cameras in a single project.
In parallel, Epic Games has added OpenColorIO support to nDisplay, promising accurate color calibration that connects content creation in Unreal Engine with what the real-world camera sees on the LED volume. Similarly, to enable nDisplay to scale efficiently, multi-GPU support has been added. This enhancement makes it possible to maximize resolution on wide shots by dedicating one GPU for camera pixels and shooting with multiple cameras.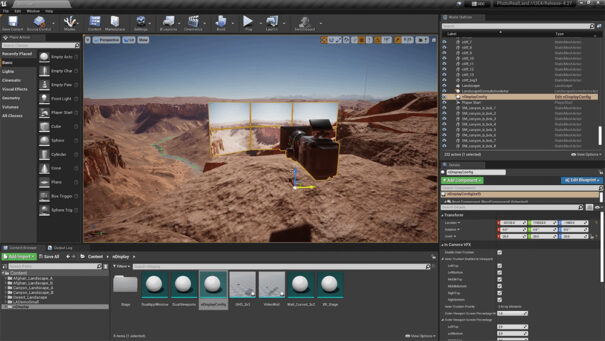 Interface and virtual camera
Unreal Engine 4.27 also introduces a new user interface builder for remote control. Using drag-and-drop gestures, users can quickly build complex web widgets without the need for code, so users with no Unreal Engine experience can control the creative results generated by the engine from a tablet or laptop.
On the other hand, the virtual camera system introduced in Unreal Engine 4.26 has been greatly enhanced with support for many more features, such as multi-user editing, a redesigned user experience Et un extensible kernel architecture. A new iOS app, Live Link Vcam, dedicated to managing virtual camera functionalities, has also been enabled for iOS. In this way, the system makes it possible to operate a cinema camera within Unreal Engine using a device such as the iPad.
Completing the main improvements in this area, it is now possible to save the state of a given scene and later restore any or all of its elements, making it easier to return to a previous configuration.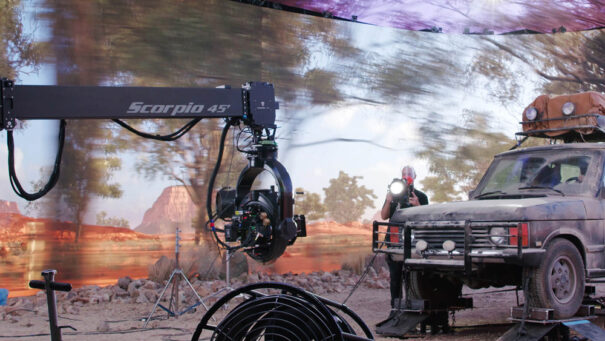 What's new for production and video games
In addition to these specific improvements for virtual production, Unreal Engine 4.27 is loaded with important new features applicable to all types of environments. These include improvements to the Lightmass GPU dedicated to global lighting, including support for many more features, the ability to change the lighting on a virtual set more quickly, and improved stability.
Similarly, Path Tracer, a physically accurate, DXR-accelerated progressive rendering mode that can be activated without any additional setup; and the clip render queue, which allows rendering from multiple cameras in a structured batch process, have also been updated.
Other new features of Unreal Engine 4.27 include new compression options for games, support for running processes in cloud virtual machines, and new support for the OpenXR plugin, dedicated to creating extended reality content.
As-tu aimé cet article?
Abonnez-vous à notre flux RSS et vous ne manquerez rien.
D'autres articles sur

Epic Games [INT]

,

Unreal Engine [INT]