Chris Hemsworth promuove Centr con uno spot shot con URSA Mini G2 di Blackmagic

Blackmagic Design's
URSA Mini G2 camera and Video Assist 12G HDR were used during the shooting of actor Chris Hemsworth's latest spot for his app

Centro.

Hemsworth chose director and cinematographer Antonio Rosa, who specializes in music videos, documentaries and commercials, to shoot the spot. His most recent work includes projects with meraviglia and behind-the-scenes feature films for Disney+ productions such as Shang Chi and the Legend of the Ten Rings e Thor: Love and Thunder.

Rose himself reveals that the shoots went completely smoothly: "Whilst Chris talked, I rapidly rigged my Blackmagic G2 into handheld mode and rolled the dice on my 35mm Xeen CF prime lens. The boys opened the gym door and the light looked perfect on the rugged stone wall behind, but light was fading fast. Chris, Bobby and Luke picked up weights and started training hard and without a word the shoot was on, no second takes."

This naturalness allowed Rose to keep shooting continuously, "trusting in the G2's high dynamic range, depth in the shadows and ability to hold onto the highlights". "With the Blackmagic LUT dialed in, I knew that whatever I was seeing in the eyepiece was exactly what I wanted," remarks Rose.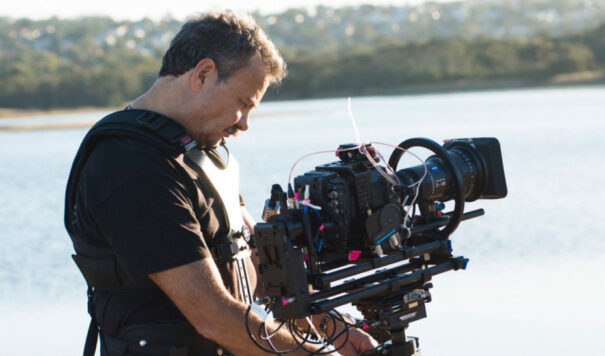 URSA Mini Pro 4.6K G2
Rose decided to use Blackmagic Design's URSA Mini Pro 4.6K G2 with the goal of capturing 4.6K footage. He would then monitor the footage with the Video Assist 7″ 12G HDR monitor in order to create the desired final effect for the campaign.
The shooting experience with the Blackmagic Design device was entirely satisfactory for Rose: "I know that the dynamic range will handle direct sun, deep shadows or heavy backlighting and always look better than I'd hoped in post. I monitor in the BM Film to Extended Video v4 LUT and use a combination of waveforms to keep my exposures in the ballpark, but a lot of my shoots are chasing fleeting moments where I get one chance to get it right so I have to be ready."
"In a world of 4k deliveries, having the added resolution gives me the option to stabilise shots or reframe in post without digging past the 4k frame. I find the menus super quick and intuitive to navigate and the cameras are rock solid despite extreme heat, dust and cold," concludes the director.
Guarda questo post su Instagram
Ti è piaciuto questo articolo?
Iscriviti al nostro RSS Feed e non ti perderai nulla.
Altri articoli su Blackmagic [INT],

Samyang [INT]