Activa Multimedia: interesting proposed low-cost for DTT
Activa Multimèdia presenta en Broadcast 2009 soluciones low cost de calidad para canales digitales. En su stand se puede ver en acción el nuevo modelo de TV local automática, su solución para producción y archivo e innovadoras herramientas para la información meteorológica.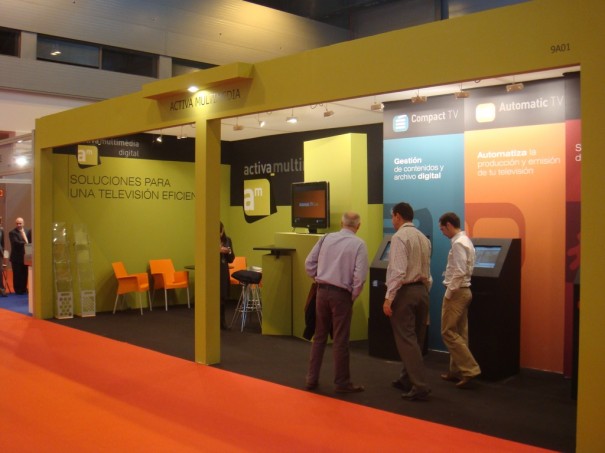 Activa Multimèdia presenta en Broadcast'09 su modelo de canal de TDT low cost, para hacer posible una televisión de proximidad de calidad a bajo coste. Basado en la plataforma Automatic TV, este modelo permite gestionar y emitir contenidos de calidad para TDT con una inversión mínima y de forma totalmente automática. Además, para aquellos que quieran hacer producción propia, Compact TV ofrece una amplia gama de posibilidades de producción y archivo digital. También se presentarán las últimas novedades de los Servicios Audiovisuales de Meteorología.
El modelo de canal local de AM hace posible una TV automática, sin necesidad de equipos ni estudios de producción, que se basa en tres ejes de contenidos: "Información", que combina imágenes, fotografías y texto; "Ventanas", que ofrece imágenes desde cámaras fijas ubicadas en lugares emblemáticos; y "Participación", donde los espectadores pueden aportar mensajes multimedia. El sistema también puede utilizar contenidos externos.
Por otro lado, el sistema de producción y archivo digital de contenidos audiovisuales Compact TV ofrece una amplia gama de posibilidades de producción profesional, como la captura de contenidos desde cinta o enlace, edición de vídeo, gestión de assets, archivo, etc.
Gestión de vídeo
Compact TV es una solución para cualquier empresa que necesite gestionar vídeo: televisiones, agencias de noticias o centros de archivo, entre otros. Permite trabajar sin cintas en un entorno web sencillo e intuitivo y, de esta forma, reducir el tiempo de producción, aumentar la calidad de los contenidos producidos y disponer de un archivo realmente accesible.
AM también presentará las últimas novedades en sus Servicios Audiovisuales de Meteorología (SAM), proveedor líder en España de previsión meteorológica, para ofrecer la máxima calidad al mínimo coste. Por un lado, e-Meteo, un sistema en línea de generación de vídeos que pueden descargarse de internet, listos para emitir, totalmente personalizados, con voz en off o presentados por un meteorólogo. Por otro, Meteoplay 2 es la solución para crear boletines avanzados y personalizados en tiempo real. Finalmente, Meteoplay 3, es la herramienta de última generación para crear boletines con mapas animados, símbolos y gráficos en 3D.
Gallery:
Did you like this article?
Subscribe to our RSS feed and you will not miss anything.
Other articles on Activa Multimedia, Automatic Tv, Broadcast-IFEMA-, Compact Tv, Meteoplay
Otros artículos relacionados