Activa Multimedia: interesting proposed low-cost for DTT
Activa Multimedia presents Broadcast 2009 solutions low cost quality for digital channels. Stand seen in action the new model automatic local TV, your solution for production and archive and innovative tools for weather information.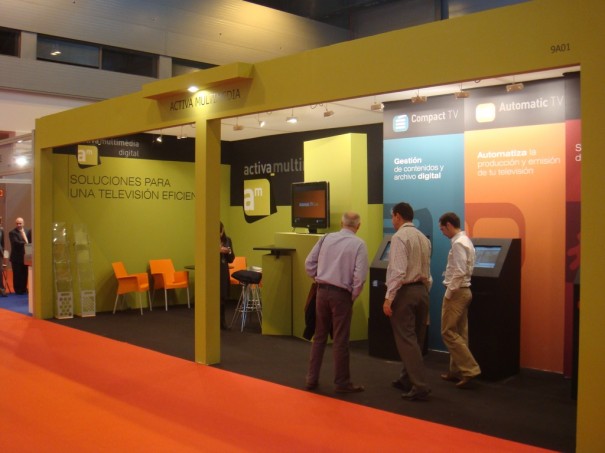 Activa Multimedia presents its DTT channel model in Broadcast'09 low cost, to make possible a quality low-cost proximity television. Based on the Automatic TV platform, this model allows to manage and issue content quality for DTT with minimal investment and fully automatically. In addition, for those who want to own production, Compact TV offers a wide range of possibilities for production and digital archive. The latest audiovisual weather services will also be presented.
Local AM channel model makes possible an automatic TV, without equipment or production studios, which is based on three axes of content: "Information", which combines images, photographs and text; "windows", which offers images from fixed cameras located in emblematic places; and "Participation", where viewers can make multimedia messages. The system can also use external content.
On the other hand, the production system and digital archive of audiovisual content Compact TV offers a wide range of possibilities for professional production, as the capture of content from tape or link, video editing, management of assets, file, etc.
Video management
Compact TV is a solution for any company that needs to manage video: television, news agencies or centers of file, among others. It allows to work without tapes in a simple and intuitive web environment and, thus, reduce production time, increase the quality of the produced content and have a truly accessible file.
AM también presentará las últimas novedades en sus Servicios Audiovisuales de Meteorología (SAM), proveedor líder en España de previsión meteorológica, para ofrecer la máxima calidad al mínimo coste. Por un lado, e-Meteo, un sistema en línea de generación de vídeos que pueden descargarse de internet, listos para emitir, totalmente personalizados, con voz en off o presentados por un meteorólogo. Por otro, Meteoplay 2 es la solución para crear boletines avanzados y personalizados en tiempo real. Finalmente, Meteoplay 3, es la herramienta de última generación para crear boletines con mapas animados, símbolos y gráficos en 3D.
Gallery:
Did you like this article?
Subscribe to our RSS feed and you will not miss anything.
Other articles on Activa Multimedia, Automatic Tv, Broadcast-IFEMA-, Compact Tv, Meteoplay
Otros artículos relacionados