Sapec supplies RTVE with Nevion Flashlink converters
Sapec lleva a cabo el suministro del equipamiento auxiliar de video y audio (conversores up/down/crpss, distribuidores de video, conversores analógico-digitales,..) que permiten ampliar el sistema de postproducción de Torrespaña.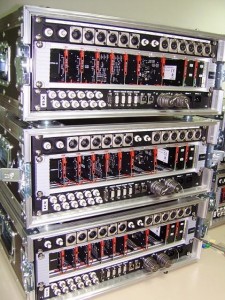 Sapec ha sido la adjudicataria del suministro a RTVE los equipos que realizarán la conversión de las señales necesarias para ampliar el sistema de postproducción de Torrespaña y traslado de cabinas de edición.
Los equipos seleccionados para este proyecto corresponden a la serie modular Flashlink, diseñada y fabricada por Nevion, empresa Noruega resultado de la unión de VPG y Network Electronics, de la cual Sapec es distribuidora.
RTVE vuelve a confiar en los equipos Nevion distribuidos por SAPEC. Estos equipos ya fueron utilizados por RTVE durante la visita del Papa en las Jornadas de la Juventud 2011 para realizar la transmisión, a través de fibra óptica, de las señales HD/SD obtenidas desde diferentes cámaras hasta las unidades móviles de RTVE.
Sapec realizará el suministro de un total de una docena cofres, cada uno de ellos con capacidad de 10 tarjetas y equipados con fuente de alimentación redundante, en la que se insertarán diferentes tipos de tarjetas Flashlink, distribuidores de video 3G-HDSDI, up/dow/cross converters, distribuidores de código de tiempos, conversores analógico digital…
La gama Flashlink se caracteriza por ser una gama de tarjetas compactas extraíbles en caliente y de bajo consumo, gracias a lo cual no es necesaria ventilación en el cofre y por su amplio colección de tarjetas de procesado de señal, distribución y la incorporación en muchas de sus tarjetas de interfaz óptico, lo que permite al cliente disponer de una gran flexibilidad a la hora de transportar varias señales en redes CWDM o DWDM.
Estas tarjetas son configurables mediante sus DIP Switches internos o mediante la controladora Multicon Gyda, que se puede ubicar en el slot 10 de los cofres de 2 RU y a través de la cual se puede tener acceso a la configuración de las tarjetas de hasta 8 cofres de forma simultánea.
El cofre de 2 RU de Flashlink, de 10 slots de capacidad, se caracteriza por ser uno de los más ligeros y compactos del mercado. Las traseras de las tarjetas instaladas son pasivas. Puede disponer de doble fuente de alimentación, también extraíbles en caliente, ya sea AC o DC y no necesita ventilación debido a su diseño y al bajo consumo de las tarjetas de la misma gama.
Did you like this article?
subscribe to our RSS feed and you will not miss anything.
Other articles on Nevion, RTVE, Sapec