Sonosphere designs new Dolby Atmos mixing room at Metropolis Studios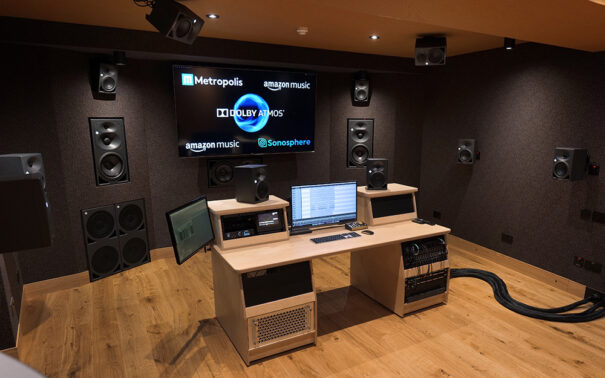 The new Metropolis Studios mixing room, integrated and designed by Sonosphere in collaboration with Munro Acoustics, will allow the audio specialist to create Dolby Atmos content.
The new Metropolis space features a centralized mixing position that provides immersive audio monitoring designed to accommodate a wide variety of surround formats. In any case, Sonosphere has designed the space with Dolby Atmos, "the industry's leading standard" in mind. The production environment, capable of creating 11.1.8 tracks, features a Dolby Atmos Mastering Suite server, three front-wall mounted Neumann KH 420 tri-amplified monitors and two Neumann KH 870 subwoofers. Surround monitoring is handled by 17 Neumann KH 120 compact bi-amplified studio monitors, renowned for their uniformity between units, and with a linearity deviation of ± 1.0dB between 100Hz-10kHz.
One of the main challenges of this installation, located at Metropolis Power House in London, was to ensure a clean, extended low frequency from the twin subwoofers. To do this, the isolation required to accurately judge the tone a full octave below the effective range of many monitoring systems was essential. To achieve this goal, the construction of the mixing room required nearly two tons of sand to insulate the rear wall, which abuts another Metropolis studio.
Phil Wright's vision
Sonosphere mixing engineer Phil Wright, who has worked with the BBC Symphony Orchestra and Paul McCartney, has considerable experience working with Dolby Atmos. This is how he interprets one of the main virtues of the system: "The whole point of Atmos is that it is loudspeaker system agnostic," Wright explains, "you mix one master file, called a Dolby Atmos Master File (DAMF). This is used to deliver the content to the end-user and then the end-user's equipment plays a version of the content suitable for the equipment attached. You might have a completely discreet 7.1.4 cinema system – or a soundbar – the Atmos file can be decoded to best reflect the gear you own."
Building on this premise, Wright explains the design philosophy of the Metropolis room: "We decided on three loudspeakers across the back wall, with all the loudspeakers around the room arrayed at 30° of separation to each other, so the setup was completely symmetrical for doing third-order [high-order Ambisonic] work. Atmos is more 'front-centric' so one of the rear loudspeakers will not be in use, and two of the others will be electronically adjusted for Dolby using a DAD (Digital Audio Denmark) AX32 monitor controller. The AX32 enables any number of virtual room presets to be optimised for different immersive formats."
Jamie Gosney, Sonosphere's commercial director, reveals that the new Metropolis Atmos room will be used by Sonosphere itself to provide HD streaming services: "We are also in talks with a number of live venues, production companies and promotors as the studio can be very easily attached, via fibre, to virtually any venue in the country and used as a live broadcast and streaming hub – thus eliminating the need for production companies to park large OB vehicles outside their venues. We also have the ability to handle soundtracks and postproduction for the film industry. The possibilities are truly endless."
¿Te gustó este artículo?
Suscríbete a nuestro RSS feed y no te perderás nada.
Other articles on DAD [INT], Dolby [INT], Metropolis Studios [INT], Munro Acoustics [INT], Neumann [INT], Sonosphere [INT]