Avid brings SaaS approach to Maestro graphics solution

Avid Maestro evolves to offer a SaaS solution that allows graphics teams greater flexibility and scalability.
Graphics teams can now install the new Maestro software on commercial hardware or on existing Avid Maestro Engine hardware to make the leap into the SaaS world for a faster, more flexible solution that can be used for any live production workflow, whether it's news, sports, current affairs or special events. In addition, by using the new Maestro, new and existing Avid users can consider the long-awaited move to the cloud, while still benefiting from the usual Avid toolset.
The Maestro graphics suite seamlessly integrates with Avid's solutions, including the MediaCentral platform, which allows production teams to easily incorporate graphics into their workflows. In addition, the new Maestro supports HD/UHD over IP (25G), UHD 12G and HDR workflows, providing more flexibility to meet current and future graphics requirements.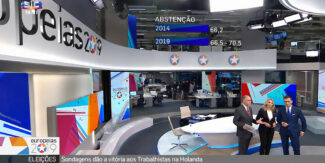 Users of this new generation of Maestro can take advantage of a simplified subscription model, providing teams with the flexibility to meet changing business needs while preparing their organisation for migration to the cloud. With a Maestro subscription, users get access to the latest software and features, as well as a more secure, easier-to-manage IT infrastructure deployed on Avid-certified hardware.
David Colantuoni, vice president of product management for video and media solutions at Avid, sums up the most compelling points of the new phase of Maestro: "With easier access and better workflow integration, the new Maestro subscription solution solves the need for news and sports production and graphics teams to have tighter collaboration and faster content turn-around. With today's Maestro graphics, teams are able to rapidly illustrate more compelling broadcasts and events for their audiences, while taking advantage of our new subscription model to gain the flexibility to adapt to the evolving requirements in demanding production environments."
¿Te gustó este artículo?
Suscríbete a nuestro RSS feed y no te perderás nada.
Other articles on Avid [INT]