Lawo brings AoIP to the RTS mobile units

Radio Televizija Srbije (RTS), Serbia's public broadcaster, has integrated a new mobile unit in which audio over IP provided by Lawo is the absolute protagonist.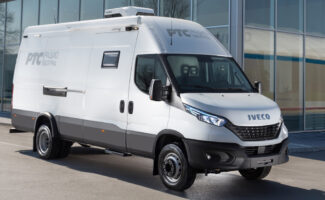 The "Small Audio OBV" mobile unit, as RTS has named it, has been designed, built and equipped entirely in Serbia by the executive team of TSE Beograd, an integrator of audio, video, multimedia, lighting, telecommunications and control technology systems. The van, delivered in April 2021, has since participated in several productions: Beer Fest in Belgrade, Arsenal Fest in Kragujevac, Mokranjac Days in Negotin, Pipers Gathering in Prislonica, or the RTS Big Band concert at the MTS hall in Belgrade.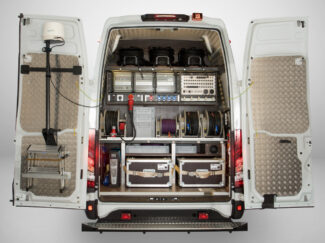 The production of this RTS mobile unit is structured around a Lawo mc²36 All-in-One audio mixing console with 40 faders and two compact stage boxes, each with 32 microphone/line inputs and 16 line outputs. The IP-based Lawo equipment was integrated using two MADI ports on the rear of the console, while the third MADI port is used to feed a TASCAM DA-6400 multitrack recorder. In parallel, a Lawo A_digital8 is used for the TC Electronic Music 6000 multi-channel effects unit. Everything is monitored by a pair of Genelec 8331A full-range active monitors and Genelec 7350A subwoofer.
The compact yet flexible mc²36 consoles, powered by Lawo A__UHD core technology, can range in size from 16 to 48 faders and feature intuitive guided workflows, providing 256 DSP channels, 48kHz and 96kHz operation, and 864 channels of I/O capacity. In addition to being IP-native and compliant with all relevant standards, it features redundant power supplies and the ST2022-7 "hitless merge" network link redundancy required for live broadcast operations.
Zorana Bojicic, CTO of RTS Radio Belgrade, emphasises the ease of use of the mobile unit, acknowledging that "It only took a few training sessions for the RTS sound engineers to feel familiar with the console and the installation."
¿Te gustó este artículo?
Suscríbete a nuestro RSS feed y no te perderás nada.
Other articles on Genelec [INT], Those [INT],

RTS Serbia [INT]