Panasonic AV-HS450, new multi-format 16 inputs
Expansible, ofrece 16 entradas SD/HD SDI, doble pantalla MultiViever, keyers múltiples, cuatro buses y una amplia gama de efectos 3D.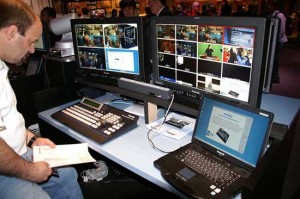 Panasonic ha anunciado en NAB'09 el AV-HS450, un nuevo mezclador multiformato para directos. Expansible, cuenta con 16 entradas en un único bloque, doble pantalla MultiViewer de alta resolución, múltiples keyers, cuatro buses auxiliares, dos Picture-in_picture (PiP), shot memory, y múltiples efectos 3D. Con 16 sincronizadores, cuatro conversores, cuatro salidas SD/HD-SDI y dos salidas DVI escalables, el HS450 ofrece una plataforma modular con capacidades expansibles y de fácil operativa. El HS350 está diseñado para trabajar a 10-Bit 4:2:2 HD o SD para estudios de tamaño medio o unidades móviles. Soporta los formatos 1080/50i,1080/24Psf, 1080/23.98Psf, 720/50p HD y 576/50i es SD, y opcionalmente acepta tarjetas para conversión ascendente y descendente, y escalado de muchos otros formatos. Por seguridad, cuenta también con fuente de alimentación redundante.
La doble pantalla MultiViewer, permite seguir cuatro, seis o diez imágenes en cada uno e incluso 16 o 20 en doble configuración. De esta forma, se elimina la necesidad de contar con múltiples fuentes HD, previos, auxiliares, monitores de key,… con el consiguiente ahorro de costes y espacio. La salida del MultiViewer puede utilizarse también para proveer señal para una multipantalla externa de cara a aplicaciones de presentación en entretenimiento, educación u otros ámbitos.
Desde el punto de vista creativo, el HS450 ofrece la posibilidad de trabajar con un chroma de gran calidad con control total de todos los niveles, componiendo una imagen imagen limpia en sets virtuales, informativos o espacios meteorológicos. Otras funciones incluyen hardware dedicado para dos PiP, dos módulos de key DSK, efectos 3D para upstream keys, preset de memorias para control remoto pan-tilt de hasta cinco cámaras (vía puerto RS-422A), múltiples buses auxiliares, shot memories, entre otras…
El HS450 puede expandirse para soportar hasta 20 entradas y 10 salidas usando tarjetas I/O. Un total de 32 crosspoints pueden programarse, facilitando el acceso total a todas las entradas y fuentes internas. A través de los puertos RS-422A permite su conexión con sistemas de edición y otras soluciones de terceras partes.
Did you like this article?
Subscribe to our RSS feed and you will not miss anything.
Other articles on AV-HS450, NAB, Panasonic
Otros artículos relacionados