Panasonic AV-HS450, new multi-format 16 inputs
Expansible, offers 16 inputs SD/HD SDI, dual-screen MultiViever, keyers múltiples, four buses and a wide range of 3D effects.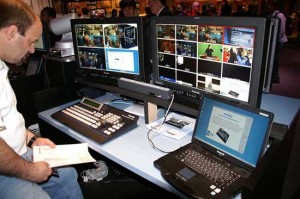 Panasonic has announced at NAB'09 AV-HS450, a new multi-format switcher for direct. Expandable, it has 16 entries in a single block, dual-screen high-resolution MultiViewer, multiple keyers, four auxiliary buses, two Picture-in_picture (PiP), shot memory, and multiple 3D effects. With 16 synchronizers, four converters, four SD/HD-SDI outputs and two DVI outputs scalable, the HS450 offers a modular platform with expandable capabilities and easy operating. The HS350 is designed to work at 10-Bit 4:2:2 HD or SD for studies of medium-sized or mobile units. Supports 1080/50i, 1080/24Psf, 1080/23. 98Psf, HD 720/50 p and 576/50i is SD, and optionally accept cards for ascending and descending, and scaling conversion of many other formats. For safety, it also has redundant power supply.
The dual screen MultiViewer, allows to follow four, six, or ten images in each and even 16 or 20 in dual configuration. In this way, removed the need for having multiple HD, prior, auxiliary sources, monitors key, with consequent cost and space saving. The output of the MultiViewer can also be used to provide a signal to an external multi-display with a view to presentation applications in entertainment, education or other areas.
From the creative point of view, the HS450 offers the possibility of working with a chroma of great quality with total control of all levels, composing an image image sets virtual, news or weather spaces clean. Other features include dedicated hardware for two PiP, two modules of key DSK, 3D effects for upstream keys, preset memories for remote pan-tilt control up to five cameras (via port RS-422A), multiple auxiliary buses, shot memories, among others...
El HS450 puede expandirse para soportar hasta 20 entradas y 10 salidas usando tarjetas I/O. Un total de 32 crosspoints pueden programarse, facilitando el acceso total a todas las entradas y fuentes internas. A través de los puertos RS-422A permite su conexión con sistemas de edición y otras soluciones de terceras partes.
Did you like this article?
Subscribe to our RSS feed and you will not miss anything.
Other articles on AV-HS450, NAB, Panasonic
Otros artículos relacionados