Minium at Primavera Sound 2010
Minium is produced these days the scenarios San Miguel and RayBan television signal at Primavera Sound 2010, being held until the 29th at the Barcelona Forum with participation of featured guests such as Pixies, Wilco, Pet Shop Boys, or The Charlatans.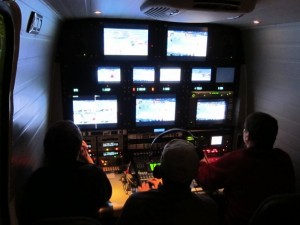 Minium has been designated by the Organization of the Primavera Sound 2010 for the production of the television signal of the concerts of the San Miguel and scenarios RayBan at Primavera Sound 2010 inaugurated yesterday and which meet at the Parc del Forum in Barcelona until day 29 groups of the likes of Pixies, Wilco, Pet Shop Boys, or The Charlatans.
Minium is consolidated in this way in the field of musical events outdoors, after having already covered concerts indoors as the Palau de la Música, the Apolo and the Palau Sant Jordi. This service company with headquarters in Barcelona, also stands out for the production of sporting events of all kinds including soccer, hockey, volley Beach, golf or tennis (recently produced the signal of the Ladies Open WTA at Turo Lloyd) as well as live or delayed television programs.
Aunque no se trata de un gigante de los servicios broadcast, lo que más valoran sus clientes es la calidad de su servicio personalizado. Su unidad móvil está equipada con cuatro cámaras Sony DXC-D55WSPL con sistema triax, ópticas Canon y trípodes con dolly Manfrotto, un mezclador Yamaha 01V96, microfonía de Shure, Sennheiser y Sony, así como con un meazclador de vídeo DFS-800 con 4CH DME.

Did you like this article?
Subscribe to our RSS feed and you will not miss anything.
Other articles on Canon, Manfrotto, Minium, Sennheiser, Shure, Sony, Yamaha
Otros artículos relacionados