Todo a punto para Vtelevisión, la nueva autonómica privada gallega
Emitiendo ya en pruebas, todo está a punto para que Vtelevision, la primera autonómica privada gallega del grupo La Voz de Galicia, comience sus emisiones regulares en TDT el próximas semanas. NRD ha integrado en este proyecto los últimos equipos y sistemas de VSN, Miranda, Sony, Panasonic (P2), Vizrt, Grass Valley, JVC y Kroma, entre otros.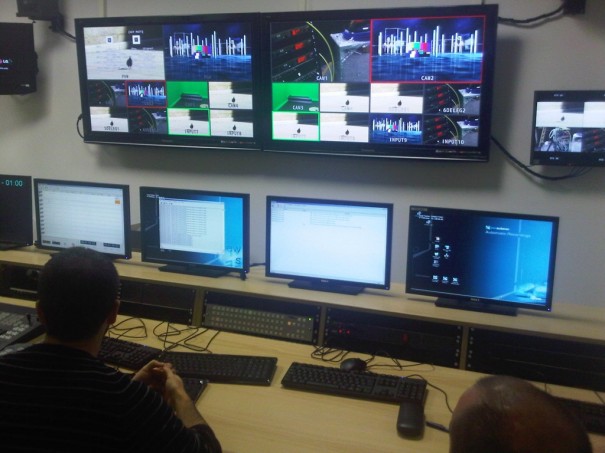 En las próximas semanas, la primera televisión privada autonómica en Galicia, Vtelevisión, iniciará sus emisiones regulares marcando un hito en la historia de la televisión en esta comunidad. La concesionaria, Medios Digitales de Galicia (perteneciente al Grupo La Voz de Galicia) adjudicó el nuevo centro de producción y emisión a NRD, confiando el peso de la continuidad, informativos, archivo y tráfico del canal a Vsn.

Este nuevo centro de producción será un referente tecnológico en la nueva etapa que se inicia en el audiovisual español, al conjugar todos los aspectos que requiere la definición y explotación de estos nuevos canales autonómicos liderados por grupos privados multimedia ya que parte de un concepto de producción de proximidad, incorporando delegaciones en todo el territorio de cobertura pudiendo trabajar tanto en SD como en HD con costes de explotación reducidos, gracias a la digitalización y automatización de todos los procesos y a la producción conjunta con decorados virtuales y decorados reales.
El proyecto, concebido dede primer momento con un planteamiento multiplataforma (TV, radio, periódico escrito, periódico digital, new media) destaca también por un importante ahorro en los costes de transporte de señal entre delegaciones y central, debido a la contribución IP de alta calidad.
El principal reto tecnológico ha sido, por lo tanto, integrar sus diferentes líneas de negocio multimedia, permitiendo el intercambio de contenidos entre sus distintas áreas.
NRD ha integrado en este proyecto los últimos equipos y sistemas de VSN, Miranda, Sony, Panasonic (P2), Vizrt, Grass Valley, JVC, Kroma, encargándose adxemás de la formación y el soporte técnico postventa.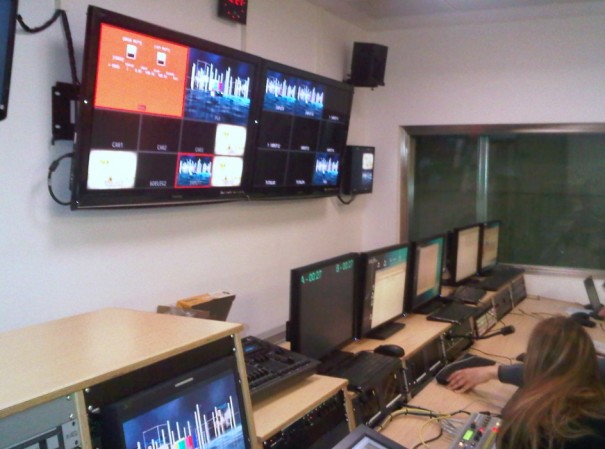 Automatización con Vsn

Vsn instala el primer

primer sistema de automatización broadcast completo en Galicia.

La continuidad, noticias, archivo y tráfico del nuevo canal de televisión autonómico, Vtelevisión, seleccionó, tras un prolongado y estricto proceso de selección, a Vsn como la mejor opción para construir un canal totalmente digital y sin cintas, con una automatización completa de principio a fin, sin inversiones desmesuradas, y capaz de operar eficientemente con un equipo de profesionales reducido.

La joven emisora operará con equipos P2 de Panasonic en integración con los módulos Vsn. Desde la ingesta programada de líneas (VsnAutorec), hasta una continuidad totalmente redundante (VsnMulticom más dos video servidores VMax), el proyecto comprende un sistema de producción de noticias, VsnNews, con 16 clientes (6 de ellos en las delegaciones), playout de dos canales, teleprompter y gráficos sincronizados, gestión de contenidos y archivo (VsnArchive), y la solución para tráfico y gestión VsnCreaTV, integrada con el sistema de publicidad propio del Grupo La Voz, para lo cual Vsn hizo un desarrollo a medida.

Vtelevisión también ha optado por el nuevo set virtual VsnFreemove, para tres cámaras y una entrada externa. Además, Vsn ha garantizado en esta instalación, la plena integración con equipos de terceros, tales como un sistema de gráficos Vizrt y la matriz de vídeo de Miranda.

Pedro Serrano, director comercial de Vsn ha comentado que "este proyecto supone una satisfacción especial para Vsn por un doble motivo. Por un lado, conocemos sobradamente el rigor aplicado por el Grupo La Voz en la selección del proyecto ganador, ante competidores muy solventes. Por otro, teníamos una motivación especial para instalar nuestro primer sistema de automatización broadcast completo en Galicia".
Did you like this article?
Subscribe to our RSS feed and you won't miss a thing.
Other articles about

AEQ Kroma

, JVC,

Miranda

,

NRD

,

P2

, Panasonic, Sony, Vizrt,

VSN

,

Vtelevision