GY-HM790: ENG y estudio 'todo en uno' en la gama ProHD de JVC
En línea con su predecesor GY-HM700 en cuanto a flujo de trabajo sin cinta grabando directamente en los formatos .mov y .mp4, el nuevo camcorder de JVC incorpora opciones como el módulo de salida ASI para contribución en directo desde unidades DSNG o radioenlaces con una simple conexión BNC. Este nuevo camcorder viene a reforzar la gama de soluciones de JVC para informativos.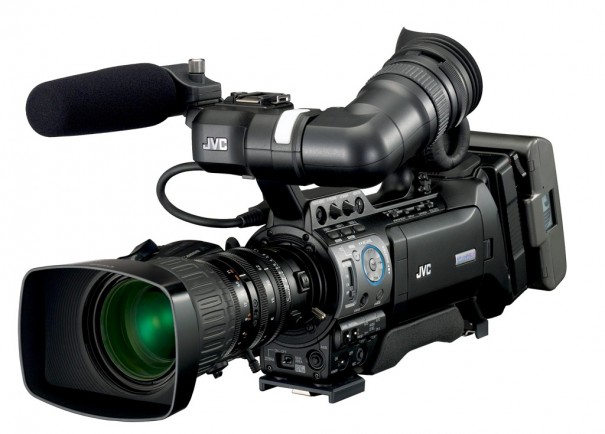 Anunciado apenas unos días antes de comenzar NAB 2010, durante la feria pudimos constatar que el nuevo GY-HM790 de JVC, cuya comercialización comenzará en verano, está levantado mucho interés entre otras cosas porque, al igual que su predecesor GY-HM700, el nuevo modelo graba sin cinta directamente en formatos de archivos nativos para Apple Final Cut Pro (.mov) y otros formatos populares en edición no lineal ( como el .mp4) que son compatibles con los flujos de trabajo Sony XDCAM EX.
Además, se trata de una propuesta muy polivalente ya que ofrece gran conectividad tanto en estudio como en operaciones ENG pudiendo conectarse directamente, y sin mayores complicaciones, mediante un interfaz ASI opcional a un sistema de contribución vía satélite o radioenlace micro-ondas a través de un simple conector BNC. Por esta razón, el GY-HM700 está llamado a convertirse en una opciones a tener muy en cuenta en las redacciones de informativos.
Configurado como cámara EFP, el GY-HM790 se basa en el mismo concepto del GY-HD250, mejorando su imagen y conectividad que ahora integra módulos de conexión multicore o por fibra sin necesidad de contar con cableado externo ya que los módulos pueden conectarse directamente a la propia cámara.
Destacar que para su uso en configuraciones de estudio o multicámara, la nueva propuesta de JVC incluye un timecode de entrada y salida y genlock. Entre los numerosos accesorios que JVC ofrecerá destaca un visor de estudio de 8,4 pulgadas y un generador de efectos especial multientrada.
Tres CCDs de 1/3
Con un nuevo diseño modular, y soporte a producción multicore o en fibra, el nuevo GY-HM790 incorpora tres CCDs de 1/3 de pulgada y está pensado tanto para producción ENG como en estudio con control robótico de cámara. Trabaja a 1920×1080 grabando a 1080i, 720p e incluso SD a 35 Mbps (en modo de alta calidad, con bit rate variable) o 19/25 Mbps (en modo SP, con bit rate constante).
El camcorder se comercializará con un zoom 14x de Canon, pudiendo trabajar con cualquier lente de 1/3 de montaje en bayoneta.
Cuenta con un LCD de 4,3 pulgadas y un visor LCOS de alto contraste de 1,2 megapíxeles, y dos entradas XLR con alimentación phantom que ofrecen sin comprimir grabación de audio LPCM con controles de nivel manuales. Con su puerto HD/SD-SDI, el GY-HM790 proporciona una completa señal HD 4:2:2 sin comprimir para monitorización en vivo, y un puerto FireWire que proporciona salida de señales SD o para su uso en un flujo de transporte HDV, pudiendo emplearse una grabadora externa de disco duro. El módulo grabador opcional SxS se conecta directamente a la videocámara y permite la grabación simultánea a las tarjetas SDHC y SxS.
La GY-HM790 estará disponible este verano con un precio que rondará los 12.000 dólares incluyendo la óptica Canon HD 14x. En otoño saldrá una versión con la tecnología de JVC patentada LOTUX especialmente indicada para trabajar en ambientes muy pobres de luz.
Did you like this article?
subscribe to our RSS feed and you will not miss anything.
Other articles on

GY-HM790

, JVC, Sony,

XDCAM EX