Crambo Visuales participates in Broadcast 2011 with various news from the audiovisual sector
Crambo Visuales acude un año más al Salón Profesional Internacional de la Tecnología Audiovisual, Broadcast, con las últimas innovaciones de sus principales empresas representadas.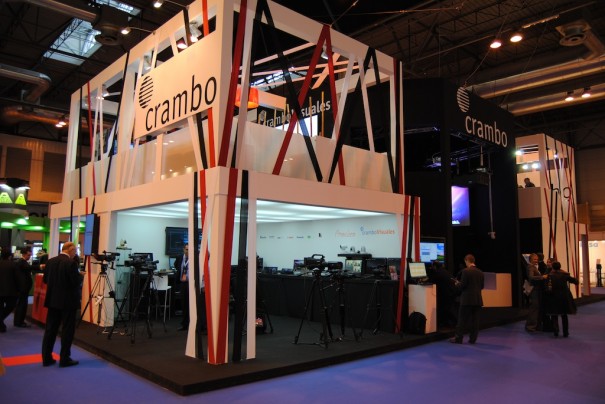 Una de las novedades que Crambo Visuales está presentando en su stand (3D26) de Broadcast es el camcorder P2 compacto AG-HPX250E de Panasonic, que incluye codec AVC-Intra, Genlock y TC, así como los nuevos camcorder compactos profesionales 3D, HDC-Z10000, códec AVCCAM y tarjeta SD-HC y de hombro AG-3EDP1 con códec AVC-Intra y tarjetas P2.
Otra de las primicias que Crambo Visuales dará a conocer en esta feria es la nueva cámara ¼" CCD EVI-D90P de Sony, con salida compuesta, óptica x 28 con posicionador y posibilidad de instalación a techo y desktop.
Asimismo, la empresa aprovechará el certamen para dar a conocer el acuerdo al que ha llegado con Datavideo, en virtud del cual se convierte en distribuidor de la marca en España. En este sentido, DataVideo presentará el mezclador AV 8 entradas (6 compuesto, 2 DVI-D) con salida multipantalla con reloj y picómetros audio SE-600. Basado en este mismo mezclador, se dará a conocer una unidad móvil que incluye mezclador, intercom y monitor compacto HS-600, entre otros productos.
Por su parte, Newtek muestra en esta feria su modelo con cámara lenta 3Play 425.
Proyectores de última generación
En Broadcast 2011, Optoma presenta el nuevo modelo de Home Cinema HD83 con tecnología DLP con posibilidad de reproducir contenidos 3D activos, así como el nuevo proyector de instalación EH7500 de 1920×1200 de 6500 Ansi lúmenes con 5 ópticas intercambiables. Por su parte, Nec muestra los nuevos proyectores PX750U de 1920×1200 de 7000 Ansi lúmenes en formato DLP con doble lámpara que incorpora la tecnología 3D Reform, para poder proyectar desde cualquier ángulo, con funciones Edge Blending, Wifi, corrección geométrica, Staking, Control Lan y envío de contenidos por este medio.
Panasonic está dando a conocer los nuevos modelos PT-DX800E y PT-DW730E. El primero de ellos dispone de tecnología monochip de DLP de 1024×768 de 8000 Ansi lúmenes, capaz de desarrollar hasta 8000 Ansi lúmenes y con funciones de Edge Blending y 24/7 para uso intensivo, y el segundo posee HD de 1280×800 y 7000 Ansi Lumenes.
Sanyo presenta el PLC-HF15000, proyector de LCD, con resolución 2048×1080 (2k) de luminosidad 15000 Ansi lúmenes con 4 lámparas y opciones de Edge Blending, entradas de SD-HD/SDI, y nuevo chasis más robusto.
Sony muestra en el espacio de Crambo el nuevo PL-VW95 con Tecnología SXRD de 1920×1080, luminosidad de 1000 Ansi lúmenes pensado para Home Cinema, con funciones de 3D activo, gran contraste de 150.000:1 y Lens Shift horizontal y vertical.
En cuanto a sistemas de control, Crambo Visuales exhibe el sistema Prodigy de Crestron, así como los nuevos productos de streaming de V-Brick, Gyration y Avermedia.
En lo referente a videowall, se presentarán las soluciones de RadarTouch, mientras que Sharp enseñará sus nuevos monitores de gran formato. Además, se darán a conocer algunas novedosas aplicaciones de Digital Signage.
En cuanto a videoconferencia, Radvision presentará la nueva aplicación Scopia Mobile v3 para Apple IOS que permite realizar multivideoconferencias y compartir datos entre iPad/iPhone con cualquier sala de videoconferencia.
Conferencias y demostraciones técnicas
Por otro lado, en el Auditorio Crambo Visuales ha organizado interesantes ponencias de los principales fabricantes del sector que podrán seguirse a través de diferentes tecnologías como streaming, videoconferencia…
Además, un equipo cualificado de especialistas de las diferentes áreas de negocio acerca a los visitantes las últimas soluciones y productos del mercado mediante interesantes demostraciones prácticas y exhibiciones.
www.crambovisuales.es
Did you like this article?
subscribe to our RSS feed and you will not miss anything.
Other articles on Broadcast2011, Crambo