'El barco pirata', Goya al mejor corto de ficción
Con muy escaso presupuesto, Trullols presenta en este corto simpático algunos de los tópicos como la noche de Reyes, la crisis, la vuelta al hogar materno tras el divorcio, los caprichos de los niños…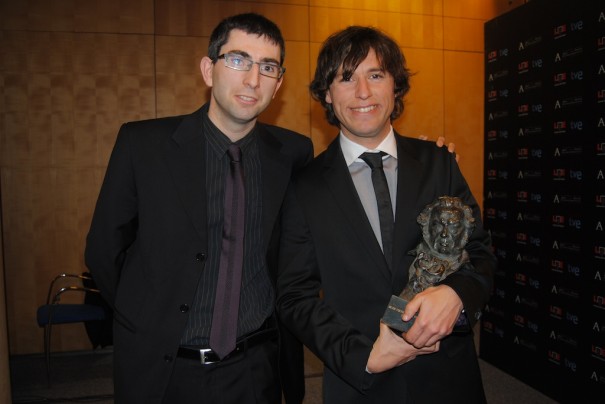 El corto El barco pirata, de Fernando Trullols, se ha alzado con el Goya 2012 al Mejor Cortometraje de Ficción Español superando a su competidoras El premio, de Elías León Siminiani; Matar a un niño, de César Esteban Alenda y José Esteban Alenda; y Meine Liebe, de Laura Pousa y Ricardo Steinberg.
Con Alberto San Juan, Petra Martínez, Antonio de la Torre y Raúl Arévalo, entre otros, es un corto simpático que explota tópicos como la noche de Reyes, la crisis, el paro, la vuelta al hogar materno tras el divorcio, los caprichos de los niños… Trullols juega con lo imprevisto en una producción de muy reducido presupuesto, con apoyo del Ayuntamiento de Coslada (Madrid), que está cosechando muy buenas críticas en aquellos festivales en los que se exhibe.
Fernando Trullols tiene una larga experiencia como ayudante de dirección en una veintena de películas. Ha dirigido anuncios publicitarios en televisión y realizado varios vídeo clips, entre ellos, uno del grupo Ella baila sola. Ha participado en el guión de películas como El verano de Mina o Atlético Aviación, y ha llevado el guión y la dirección de los cortos Desde la ciudad no se ven las estrellas y Dos.
Ante la pregunta de ¿qué se necesita para hacer un corto en estos tiempos?, Fernando Trullols, ya con su Goya en la mano, comentó a Panorama Audiovisual: "Amar mucho el cine y querer contar historias, por eso quería dedicarle este Goya a toda esa gente que comete la feliz osadía de experimentar y querer contar una historia, esa gente joven que está empezando y no tiene la perspectiva del negocio, no tiene esa cosa pervertida y tienen esa ilusión y ese afán y simplemente las cuentan. Yo creo que eso es lo que hace falta, tener una historia que contar, ya sea larga o corta, no importa, lo importante es poder contar una historia y tener la ilusión y hacerlo. En nuestro caso ha sido así, fue un camino que empezó siendo una cosita muy pequeña".
Con respecto, a contar en este corto con caras muy populares de la interpretación, como garantía de éxito, Trullols asegura que "es un sello muy importante porque es gente fantástica que lo que haces es ayudarnos mucho a los que todavía no sabemos tanto como ellos a poder la historia en marcha. Luego, tener actores conocidos nos pone en lugar en el que la gente puede tener más interés a priori pero luego la historia hay que verla, más allá del cartel, y eso es lo importante".
El barco pirata es un corto que se montó en Barcelona con Fran Gutiérrez, quedando a juicio del director "muy contentos con el resultado…a veces lo miro y no sé cómo lo hemos hecho, si te soy sincero".
En esta producción se escaneó todo en negativo, el procedimiento habitual de un largometraje, y luego los efectos los llevó a cabo Lluis Castells, que también ha participado en Eva.
Tras lograr este Goya, Fernando Trullols ya tiene una historia dándole vueltas en la cabeza. "No como un paso, si no simplemente que la siguiente historia es larga y creo que hay que contarla así", ha asegurado.
Did you like this article?
subscribe to our RSS feed and you will not miss anything.
Other articles on Who Academy, Goyas2012