Polsat chooses Sony Professional Solutions technology for its latest 4K HDR IP OB Van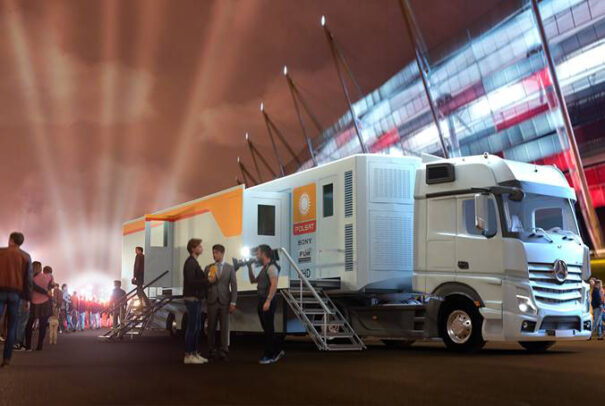 Sony Professional Solutions has been selected by the media company

Polsat

as prime contractor for the first 4K IP Outside Broadcasting truck of its kind in Europe.
Sony first delivered an HD OB Van to Polsat in 2007, one of the first in Europe at the time. Building on the long-term relationship and technological expertise of Sony, Polsat consulted once again with Sony as a business & technology partner for its new flagship truck. Whilst Sony's expertise and technologies were instrumental in developing the core design and infrastructure of the truck, this project was also done in collaboration with local ISIs 4Vision and Autokontener.
With the exponential demand for content, amplified by the pandemic as a background, Polsat has been working on a future gazing strategy to transform its business model, through technological and operational shifts. Consulting with different local and global partners such as Sony and 4Vision resulted in the building of this vehicle. It fits right into this business transformation strategy thanks to its full IP infrastructure and equipment capable of producing "in any format", such as HDR and 4K, with high flexibility in operations and workflows.
Andrzej Szymański, CTO (Chief Technological Officer) of Polsat, commented "We know that the future of the media and broadcasting industry will rely strongly on great technology to deliver great content to audiences. With this mind we set out to build a future proof truck capable of servicing this need. Sony is our trusted partner in this because of their strong industry knowledge and capacity for innovation. But this project is also the fruit of collaboration with multiple implementation partners such as 4Vision and Autokontener and other technology vendors. It's the first step in a longer term transformation of our infrastructures and workflows that will make our content production & supply chain more efficient, flexible as well as scalable and responsive."
This system provides Polsat with a flexible production capability of television programs, particularly for the airing of large art, entertainment and sports events. The new OB vehicle also means that programmes can be produced in UHD/HD HDR format.
Hiroshi Kajita, Head of Media Solutions, Sony Professional Solutions, said "Sony is an company with a solid technology foundation – we're excited when we're able to work long term with a customer like Polsat and local partner like 4Vision, not only because of the strength of the relationship there, but also because of a common vision to bring always better technology and people to improve the end viewers experience".
A state-of-the-art OB
The 14 meters OB trailer will be fully equipped with a suite of Sony's latest technologies, including HDC-3500 & HDC-P50 4K HDR cameras, XVS-9000 video switcher, PWS-4500 Video Server and PVM/BVM Professional Monitors. Sony's Live Element Orchestrator and IP Live System Manager have been selected for the entire Management Control and Monitoring of the system build around COTS IP Switches from Cisco. The overall system responds to the latest SMPTE 2110 & AMWA NMOS suite of open standards, enabling interoperability with current & future systems Polsat will build around this truck.
The Live Element Orchestrator and IP Live System Manager, have been designed with IP native systems in mind. These provides all the foundations required to manage, control and monitor the entire OB Truck production infrastructure and edge devices. On top of that comes the XVS-9000 mixer and HDC-3500 and HDC-P50 System cameras which integrate seamlessly into the core IP infrastructure.
For HDR and SDR production, the SR Live for HDR workflow and operational practices will be adopted. Built around the XVS-9000 & HDC cameras toolsets, they will be complemented by the addition of HDR Converters – HDRC-4000 and NXLK-IP50Y – adding more resources to the core processing capabilities of the truck.
The vehicle also boasts an array of 3rd vendors such as an SSL audio mixer, Riedel talkback system, Fujinon lenses, Imagine Selenio Networked Processor for multiviewers, VISLINK wireless links, Leader SPG and WFM-s, BroaMan fibre links, and Cisco for networking.
The truck will be delivered to Polsat in 2021.
¿Te gustó este artículo?
Suscríbete a nuestro RSS feed y no te perderás nada.
Other articles on

BroaMan [INT]

,

Cisco [INT]

, Fuji [INT],

Imagine Communications [INT]

, Leader [INT],

Polsat [INT]

, Riedel [INT], Sony [INT],

SSL [INT]

,

Vislink [INT]