Baton (Interra Systems) prepares for 8K playback with Blackmagic Design solutions

Interra Systems has integrated DeckLink cards and Blackmagic Design's Video Assist monitors and recorders to enable 8K playback in its Baton Media Player (BMP).
Interra Systems' Baton is a quality control platform with automated artificial intelligence that provides comprehensive compliance checks for on-demand content broadcasting in linear and streaming workflows. Similarly, Baton's digital cloud supports a resizable architecture, giving users the ability to scale up the system as needed. In addition, its high availability ensures business continuity even if a physical medium breaks down.
Working in synchronization with Baton, BMP is a high-performance, feature-rich media player that allows professionals to playback, monitor and verify audiovisual components from anywhere. In parallel, BMP provides the opportunity for end users to implement a hybrid quality control workflow.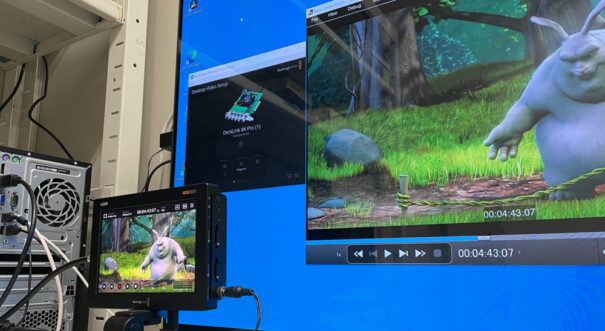 DeckLink cards
Employing Blackmagic Design's DeckLink line of PCIe capture and playback cards, Interra Systems enables its customers to control images up to 8K resolution. Capable of operating in a variety of formats, DeckLink enables BMP users to monitor macroblocks, freeze frames or blacks, among other issues.
Interra Systems employs a variety of DeckLink units. These include DeckLink Studio, DeckLink SDI 4K and DeckLink 8K Pro, along with the DeckLink Media Express player. The latest cards used are the DeckLink 8K Pro model, an advanced third-generation version with eight PCI Express lanes for 8K workflows that include 12G SDI connections and offer support for SD, HD, UHD, DCI 4K, 8K and DCI 8K formats.
Saurabh Jain, director and head of strategic partnerships at Interra Systems, said he was pleased that the collaboration with Blackmagic Design allows "media companies to view and manage 4K playback in realtime, and provide high quality video."
Video Assist
Interra Systems also uses several DeckLink 8K Pro cards and a Blackmagic Video Assist 7″ 12G HDR device both in its research and development facilities and in its clients' workflows. The signal from the DeckLink 8K Pro unit is transmitted directly to the Blackmagic Video Assist 7″ 12G HDR monitor and recorder, which features an adjustable 2500 nits display and a high resolution of 1920 x 1200 compatible with a 16:9 aspect ratio.
Dan May, president of Blackmagic Design, adds, "It is exciting to see Interra Systems' BATON Media Player fully support the entire DeckLink family, and it will surely benefit our customers with BATON supporting all color space monitoring and inspection up to 4K DCI at 60p 12 Bit RGB. The combination of our Desktop Video and Video Assist 12G HDR gives high quality HDR QC at an affordable price."
¿Te gustó este artículo?
Suscríbete a nuestro RSS feed y no te perderás nada.
Other articles on Blackmagic [INT],

Interra [INT]