Lumix BS1H Full Frame, Panasonic's latest offering for film and live performance

The Lumix BS1H, a new Panasonic full-frame, mirrorless digital box-style camera, features a 24.2-megapixel 35mm Full-Frame CMOS sensor that captures content at an active resolution of 6,024 x 4,016.
In addition features an OLPF (optical low-pass filter), which suppresses moiré and inaccurate color reproduction. The sensor, which features Dual Native ISO, minimizes noise generation by choosing optimal circuitry based on sensitivity prior to gain processing.
Maximizing the pixel utilization of the Full-Frame image sensor, the Lumix BS1H is capable of recording high-resolution video in 6K/24p, 5.4K/30p (3:2 aspect ratio) or 5.9K/30p (16:9 aspect ratio). It also provides 10-bit 60p 4K/C4K HEVC 10-bit 60p video recording when using the Super 35mm equivalent image area. The 4:2:2 10-bit 4K30p 4:2:2 can be recorded in H.264 in its full area. Its high-resolution data can also be used to create 4K videos with higher image quality or to crop 4K images.
Panasonic's camera is also notable for offering 14 steps of dynamic range with V-Log, its ability to collect V-Gamut color gamut, HDR support, an ITU-R BT.2100 compliant gamma curve, and real-time subject detection technology.
Recording formats
The Lumix BS1H is capable of 10-bit 60p/50p 4:2:2 HDMI output by adopting a new heat dispersion structure. Thanks to this feature, unlimited video recording is achieved in a variety of recording formats, including 4:3 anamorphic mode. Capable of working in RAW, its data can be managed via HDMI to save Apple ProRes RAW to the Atomos Ninja V or save Blackmagic RAW to the Blackmagic Video Assist 12G HDR.
On the other hand, variable frame rate (VFR) allows users to record fast motion or slow motion video in C4K/4K (60 fps, maximum 2.5x slower at 24p) and FHD (180 fps, maximum 7.5x slower at 24p). Furthermore, the Panasonic device can record HFR (High Frame Rate) video with sound, even when using autofocus. Additionally, a wide variety of effects are available to produce slow motion video through the post-production process.
To support the growing demand for streaming, the BS1H also offers an IP streaming function that enables remote, high-quality image transmission to the online streaming platform with PC connection via wired LAN. In particular, the LUMIX BS1H can transmit 4K 60p (50p) video in H.265.
Connections, multi-camera and more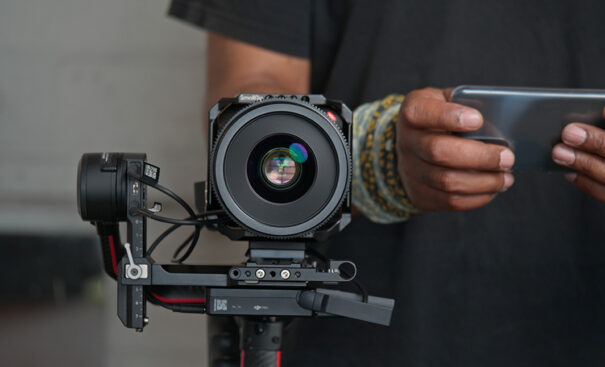 Panasonic's new camera, with a body composed of aluminum alloy and magnesium, presents itself as a lightweight, versatile and compact device. Despite these dimensions, however, it does not forgo a wide variety of ports: in addition to a USB 3.1 Type-C, it is equipped with a 3G-SDI (BNC) terminal and an HDMI Type-A, which can be used for simultaneous output. In addition, there is a dual SD card slot.
The BS1H can be combined for multi-camera production using its integrated Genlock IN (BNC) and Timecode IN/OUT (BNC) functions. Connected to a LAN network, up to 12 BS1Hs can be controlled using the Panasonic Lumix Tether for Multicam PC software.
Other key features of the new Panasonic Lumix BS1H include tally lights, one front and one rear; operation lock switch and five function buttons; 3.5 port audio jack compatibility and XLR microphone DMW-XLR1 support; 2.4 GHz Wi-Fi and Bluetooth 4.2 connectivity; and an SDK for camera control via USB/LAN that will be provided free of charge.
The Lumix BS1H will be available in November.
¿Te gustó este artículo?
Suscríbete a nuestro RSS feed y no te perderás nada.
Other articles on Atomos [INT], Blackmagic [INT], Panasonic [INT]