DJI introduces DJI Ronin 4D, an all-in-one cinematic system with four-axis stabilization

The new DJI Ronin 4D combines the full-frame Zenmuse X9 gimbal camera, a 4-axis stabilization system, a LiDAR focusing system, and a video control and transmission system into a single unit.
The DJI latest all-in-one solution is described by the company itself as its "most powerful cinematic imaging platform to date." A proprietary chipset powers an intelligent image processing system, CineCore 3.0, which offers an internal 8K RAW codec with color reproduction, advanced assist functions with a high-performance AI engine, and multi-link monitoring and control with low-latency image processing.
Complementing the imaging system is a new full-frame Zenmuse X9 gimbal camera – available in 8K and 6K versions. In addition to the commonly used H.264 codec, both the X9-8K and X9-6K can record Apple ProRes and ProRes RAW internally. The Zenmuse X9-6K supports up to 6K/60fps and 4K/120fps, and the Zenmuse X9-8K up to 8K/75fps with more than 14 stops of dynamic range, giving creators multiple options for capturing cinema-quality footage.
Even in challenging lighting situations, the DJI Ronin 4D patented Cinema Color System (DCCS) is ready to deliver natural skin tones and enables "effortless" tonal consistency in a project when using different cinema cameras. Similarly, the camera's built-in nine-stop physical ND filters make it easy to adjust to drastically changing lighting conditions. In addition, the X9 is equipped with an interchangeable lens mount design that allows connection to DJI's own DL mount, Leica M mount and other mounts with short flange focal lengths.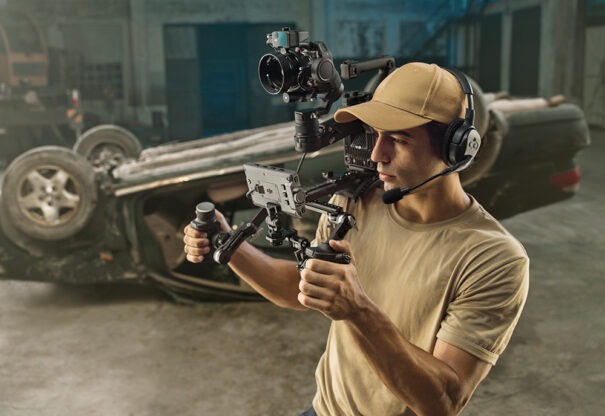 Four-axis stabilization system
The DJI Ronin 4D has been designed with an active Z-axis that seeks to effectively eliminate vertical camera shake. This technology allows the operator to record while walking, running or moving dynamically, without the need to practice pacing or rely on external equipment. In this way, DJI notes, videos taken in complex spaces, such as stairs or uneven terrain, are smooth, "without the operator's footsteps being perceived."
The system achieves this smoothness thanks to a new advanced algorithm that processes inputs from an array of ToF sensors, dual visual sensors, integrated IMU and barometer. Even with the new additional Z-axis, the DJI Ronin 4D is lighter and smaller "than most professional three-axis stabilizer-mounted cinema cameras," the company comments.
The DJI Ronin 4D comes complete with the ActiveTrack Pro system, which takes advantage of the DJI Ronin 4D's artificial intelligence to track subjects from longer distances while adjusting composition to maintain optimal framing.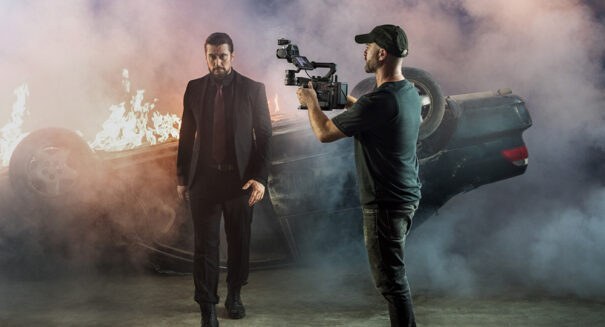 New LiDAR rangefinder
The DJI Ronin 4D mounts a newly designed LiDAR rangefinder, which continuously generates accurate laser measurements to deliver a "sharper, faster and more reliable" focusing experience. The solution simultaneously measures more than 43,200 range points up to 10 meters, locating subjects quickly and accurately, even in low-light environments.
DJI's cinematic system offers three focus modes to suit the needs of each creator: manual focus, autofocus and DJI's Automated Manual Focus (AMF). In manual focus, the DJI Ronin 4D provides LiDAR Waveform, a helper tool that allows cinematographers to locate focus points and focus "with extreme precision."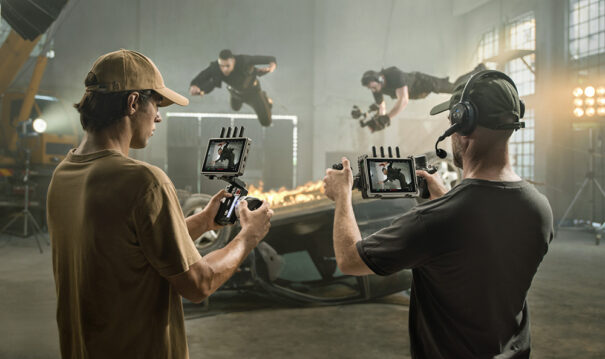 Stable transmission with O3 Pro
Using DJI's new O3 Pro transmission technology, the 4D system's video transmitter (with 256-bit AES encryption) is capable of broadcasting a 1080p/60fps signal to remote monitors with a transmission range of up to nearly 6,000 meters. In addition to 2.4 GHz and 5.8 GHz, O3 Pro also supports the DFS frequency band, which DJI says significantly improves stability and anti-interference performance, even in environments with saturated signals and in locations with complex architectural structures. This system also enables multiple receivers with a single transmitter and allows users to switch feeds between multiple Ronin 4Ds.
The DJI Ronin 4D can also benefit from a 1,500-nit, 7-inch remote monitor that integrates a wireless video receiver. This equipment features a gyro sensor that enables remote camera control based on the operator's movement. The system can also connect to Ronin 4D grips, DJI Master Wheels, DJI Force Pro or DJI's new three-channel Follow Focus.
DJI also notes that when multiple remote monitors are used together, each device can playback separate footage with independent LUTs; and that the monitor's integrated microSD card slot supports proxy footage recording at up to 1080p/60fps.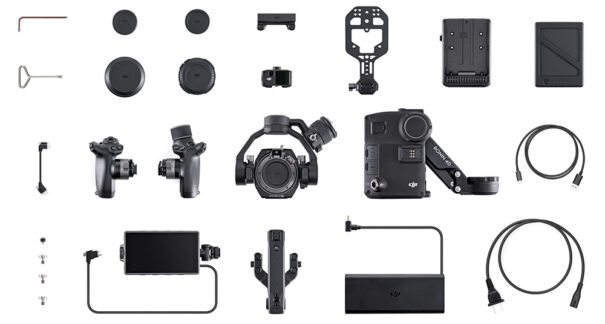 Storage, sound, battery and partners
The DJI Ronin 4D offers three storage methods: USB SSD, CFexpress Type-B card and DJI's proprietary 1TB PROSSD. On the other hand, when it comes to sound recording, the DJI Ronin 4D has built-in microphones to support 2-channel, 24-bit audio. It also has two 3.5mm jacks on the body and two XLR ports on the expansion board for additional input and output options.
Like the Ronin 2 and Inspire 2, the DJI Ronin 4D uses the TB50 smart battery, which offers up to 2.5 hours of recording. As DJI notes, this battery's self-heating technology allows for shooting in "extreme weather conditions."
DJI has confirmed that eight cinematographers will be working with DJI and Ronin 4D on upcoming assignments. They include Rodney Charters, ASC, CNSC, NZCS; Takuro Ishizaka, JSC; Rachel Morrison, ASC; XiaoShi Zhao, CNSC; and Academy Award winners for Best Cinematography Erik Messerschmidt, ASC; Claudio Miranda, ASC; and Peter Pau, HKSC.
Versions and availability
The DJI Ronin 4D is available in 8K and 6K combinations. The 6K version, available from December, includes the main body, a Zenmuse X9-6K Gimbal camera, LiDAR rangefinder, high brightness main monitor, grips, top handle, TB50 smart battery and carrying case. The 8K version, available later, features a more powerful Zenmuse X9-8K Gimbal camera and a 1TB PROSSD.
While the basic packages are fairly complete, DJI recommends purchasing the 4D video transmitter, high-brightness remote monitor and DJI PROSSD 1TB separately to take advantage of its full potential.
¿Te gustó este artículo?
Suscríbete a nuestro RSS feed y no te perderás nada.
Other articles on DJI [INT]