MBC Group relies on Lawo to create flexible production model based on IP technology

Two MBC Group control rooms located in Dubai Studio City have recently been upgraded with AES67/RAVENNA-compatible Lawo equipment.
MBC Group, a communications company with a wide reach in the MENA region, was looking for a flexible system that would allow either control room to service multiple studios with a variety of I/O combinations. To make this model a reality, the company opted for two 48-fader Lawo mc²56 production consoles and a shared I/O for the IP network system, configured as a mix of A__stage64 and modular Dallis Stagebox devices.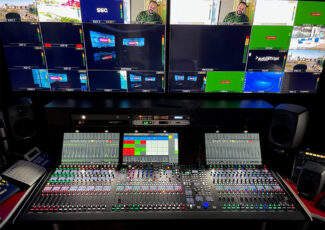 As for embedding and de-embedding audio from video sources, this is now done with the Lawo V__pro8 8-channel video/audio toolbox. The Lawo new solutions also feature an integrated user rights management system, which allows protection of "reserved" audio sources by an mc²56 to prevent unexpected configuration changes from the other audio control room's console.
While most MBC Group audio streams are exchanged via AES67/Ravenna, other signals are received via MADI. To achieve continuity between the new Lawo solutions and the previously installed equipment, it has been decided to integrate a Nova73 HD router providing a 4-port Dante card. In this way, the new system is perfectly capable of handling open standard AoIP streams, MADI signals and Dante sources in any combination and with a high number of channels.
Remote operations
The Lawo system, beyond enabling workflows within the studios themselves, allows remote control of stage boxes. Thus, MBC operators can direct audio productions from Studio City control rooms, avoiding the need to move a large number of technical solutions to production locations.
On the other hand, native IP support allowed Lawo to provide hands-on training and configuration remotely from Europe thanks to WAN-based remote fader and display control capabilities. This learning process was accompanied by a live video link to help operators make a smooth transition to the new system.
¿Te gustó este artículo?
Suscríbete a nuestro RSS feed y no te perderás nada.
Other articles on Those [INT],

MBC Group [INT]