Herzliya Studios uses EVS LiveCeption Pure replay solution in Israeli Premier League

EVS distributor Draco Video has integrated the EVS LiveCeption Pure replay solution for its client United Studios in Israel, also known as Herzliya Studios, with one of the largest and most advanced television production facilities in the region.
The solution has been deployed within United Studio's flagship van, the 'OB van 1' unit, to serve the live production of the new Israeli Premier League season, which began in September. The use of LiveCeption Pure will be extended to the other live sports and entertainment productions including the popular obstacle course challenge, Ninja Israel, and later installed within its large-scale studio facilities located just outside Tel Aviv.
Assaf Roet, owner at Draco Video, said "EVS' brand name is very strong in the local broadcast market, but is often considered as a premium product that is financially out of reach for many. When the time had come for United Studios to upgrade their old equipment, LiveCeption Pure offered us a unique opportunity to give them access to EVS' leading replay technology while keeping their investment costs under control."
The solution is comprised of two EVS XT-GO replay servers with one XFile3 connected archive and transcoding system to simplify multi-destination file transfer and archive processes during a live production. The XT-GO servers offer the essential functionalities of EVS' higher-range XT servers, including uninterrupted live feed recording, slow and super motion replays, as well as clipping and playlist control. It also comes with flexible configurations and integrates all new formats from HD/ FHD to UHD-4K, SDR to HDR as well as SDI/IP connectivity. Striking the right balance between high-quality and reliable live programming, and lower infrastructure costs, the solution is ideal for the live coverage of Israeli sporting competitions.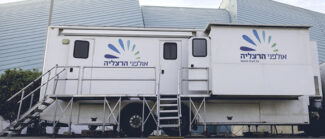 EVS regional footprint
With this investment, United Studios' OB van 1 becomes the first mobile TV production unit in the region to offer EVS technology onboard, reinforcing the company's competitive edge on the market. Moreover, this Draco deal has also helped further expand EVS' regional footprint, allowing more productions to take advantage of state-of-the-art technology and providing audiences with high-quality live programming.
Quentin Grutman, Chief Customer Officer at EVS concluded: "We've been working with Draco Video for over ten years, and during that period of time, we've managed to build a strong and valuable partnership to serve our customers in the best of ways. Through our joint efforts, we've delivered our services to our customers in many news and entertainment production environments and we're now very excited to see our LiveCeption Pure solution being deployed for Israel's top sports events".
¿Te gustó este artículo?
Suscríbete a nuestro RSS feed y no te perderás nada.
Other articles on

Draco Video [INT]

, EVS [INT],

Herzliya Studios [INT]