Goldcrest Post chooses DaVinci Resolve Studio to grade 'King's Man: Inception'

El software DaVinci Resolve de

Blackmagic Design

ha sido utilizado por el equipo de

Goldcrest Post

para etalonar

King's Man: el origen,

tercera entrega de la saga

Kingsman

from

20th Century Studios

.

El largometraje, una producción de Marv Studios bajo la dirección de Matthew Vaughn y con Ben Davis (BSC) como responsable de fotografía, explora los orígenes del primer servicio de inteligencia independiente del mundo y transcurre durante la Primera Guerra Mundial.

Adam Glasman, uno de los coloristas principales de Goldcrest Post, estuvo a cargo del etalonaje, mientras que Daniel Tomlinson finalizó la edición en alta resolución. Para el rodaje, se usó una tabla de conversión que ambos había creado para Tres anuncios en las afueras, la cual simula la apariencia de una cinta. Luego, esta se transfirió a la posproducción mediante el sistema de gestión cromática de Goldcrest.

Los creativos de King's Man: el origen optaron por una estética fría y de baja saturación para las imágenes que muestran las trincheras de la Primera Guerra Mundial, a fin de que se adecuaran al desánimo de la narrativa. No obstante, también se utilizaron imágenes de aspecto amarillento y polvoriento para capturar las escenas que acontecen en el altiplano sudafricano, lo que evidencia la versatilidad de herramientas utilizadas en el film. Glasman utilizó asimismo herramientas de DaVinci Resolve, tales como el etalonaje logarítmico, el compositor de colores específicos y las formas rotoscópicas. Posteriormente, la película se finalizó en varios formatos, incluidos Dolby Vision Domestic, Theatrical HDR y SDR Rec.709.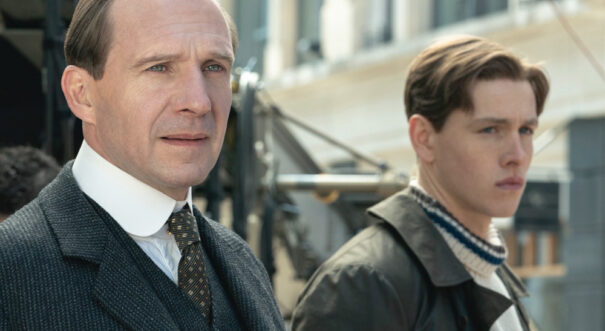 Cámaras de Blackmagic
Aunque gran parte de la trama tiene un estilo más moderado que las anteriores películas de la saga, las secuencias de acción siguen presentado la energía característica de la serie. Para estas escenas, filmadas por Bradley Allan, director de la segunda unidad, Davis probó diversas cámaras y optó por los modelos Pocket Cinema Camera 6K y Blackmagic Micro Studio Camera 4K.
Davis colocó esta última sobre un estabilizador Ronin S, con un dispositivo Blackmagic Video Assist 4K, y confió en un sistema de control de objetivos inalámbrico WCU-4 from ARRI para el enfoque.
Así recapitula la experiencia de filmar con cámaras de Blackmagic Design: "Para mí, lo más importante es el tamaño. Las cámaras livianas y versátiles como esta han cambiado la manera en la que rodamos hoy en día, dado que pueden situarse en lugares donde sería imposible colocar una unidad de mayor tamaño. Los modelos de estas dimensiones pueden instalarse en estabilizadores muy pequeños. Esto transforma completamente la dinámica de la cinematografía".
Did you like this article?
Subscribe to our RSS feed and you won't miss a thing.
Other articles about

20th Century Fox

,

ARRI

, Blackmagic, DJI, Dolby,

Goldcrest Post

,

Marv Studios