Quidich persigue la innovación en las producciones deportivas con cámaras innovadoras y soluciones como AJA FS-HDR

Una amplia selección de cámaras innovadoras y soluciones imprescindibles para el flujo de trabajo como el
JUST
FS-HDR ayudan a
Quidich
a revolucionar la escena de la producción de India.
La productora Quidich se ha especializado en sistemas de cámara innovadores para mejorar la narración y capturar ángulos nunca vistos para eventos deportivos en directo, películas y televisión. Desde su creación, la empresa ha desarrollado servicios integrados que mejoran la experiencia de visualización del público para las ligas de cricket, fútbol, baloncesto y kabaddi.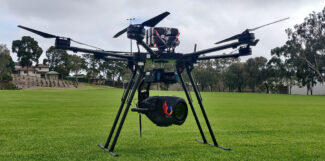 Mientras que históricamente las retransmisiones deportivas tradicionales han contado con fixed cameras colocadas alrededor del campo, el equipo de Quidich innovó por primera vez con el vehículo teledirigido BuggyQam, ofreciendo a los aficionados tomas únicas, incluidos ángulos bajos, durante los partidos de críquet. Quidich fue también "la primera empresa del mundo" en desarrollar una solución de seguimiento en directo de la realidad aumentada en una cámara móvil inalámbrica, con el sistema Spatio para drones. Para ofrecer a los aficionados una perspectiva aún más amplia del juego, desarrollaron además el Quidich Tracker (QT), un rastreador óptico propio en tiempo real para mostrar la posición de los jugadores durante los partidos en directo.
Para mejorar aún más la experiencia de visualización del público, Quidich utiliza una amplia gama de equipos de JUST, entre ellos el convertidor universal en tiempo real y sincronizador de fotogramas FS-HDR. Solución esencial de corrección de color y transformación HDR/SDR, FS-HDR permite a Quidich igualar la salida de la cámara BuggyQam con todas las cámaras del sistema de transmisión para lograr la consistencia necesaria en la producción. Esto se debe a que BuggyQam alberga una cámara de un solo sensor, mientras que otras cámaras utilizadas a lo largo de la cadena de producción incluyen tres CCD con sensores separados para recibir los colores rojo, verde y azul filtrados.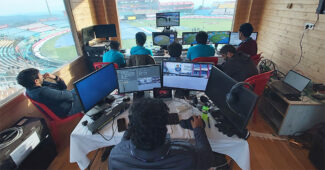 Neil Gokhale, director de operaciones de Quidich, detalla las razones que le han llevado a elegir la solución de JUST: "FS-HDR es una solución bien diseñada y versátil, que hemos podido aprovechar para las transformaciones de color en tiempo real, la ingesta de múltiples fuentes en modo multicanal y muchos otros casos de uso. La configuración de los perfiles de color antes de los partidos nos ayuda a adaptar la temperatura del color y los cambios de iluminación con sólo pulsar un botón, algo que nos llevaría demasiado tiempo ajustar manualmente durante las emisiones en directo. Las ranuras SFP también son muy útiles, ya que eliminan la necesidad de convertidores adicionales cuando se enrutan las alimentaciones de BuggyQam a la sala de control de emisión (…). Poder ejecutar la conversión ascendente/descendente/cruzada en un solo dispositivo simplifica nuestro flujo de trabajo, y FS-HDR incluye un millón de funciones útiles además de esto que sólo te das cuenta una vez que empiezas a utilizarlo".
Did you like this article?
Subscribe to our RSS feed and you won't miss a thing.
Other articles about JUST,

Quidich