National Film Archive of Japan prepares its films for streaming with Cintel

A Cintel scanner (Blackmagic Design) enables the National Film Archive of Japan to digitise films from its collection for streaming via three websites.
The main objective of the National Film Archive of Japan is to promote Japanese film culture through film preservation, research and exhibition. In addition, it is involved in the collection, preservation and restoration of feature films and related materials, as well as academic research and industry studies. It also screens films in its dedicated cinema and other content in the exhibition areas.
The organisation has a main office in Kyobashi, Tokyo, where films are screened and related materials are exhibited, and another in Sagamihara, Kanagawa Prefecture, where feature films are stored and reviewed. Today, the Sagamihara Preservation Centre, where a Blackmagic Design Cintel scanner has been installed, has approximately 85,000 tapes.
This commitment to digitisation goes hand in hand with a firm commitment to tapes, says Kazuki Miuri, assistant curator at the Archive: "We believe that film is the most suitable preservation medium for moving images, so we use digital scanning for utilization purposes. We outsource film scanning while doing it in house in parallel. For in house scanning, we scan print films mainly for these streaming projects using the Cintel Scanner."

One Cintel scanner to feed three websites
The National Film Archive of Japan chose to introduce the Cintel scanner in order to train its staff in digital technologies and, at the same time, to cope with the growing demand for this service due to internet broadcasting. Currently processing around 10 films per month with the Cintel scanner thanks to the facilities offered by the system, Miura explains: "Until now, installing a scanner required an investment in the entire system, such as a high speed network and storage. The Cintel Scanner, on the other hand, is reasonably priced and can be connected with a single cable, just like an external device attached to a PC. We were also concerned about maintenance costs. Generally, we would be under pressure to pay maintenance costs every year after the scanner is installed. But with the Cintel Scanner, we can update the software by ourselves and only have to pay for repairs if there is a problem, so this was another factor that encouraged us to install the scanner."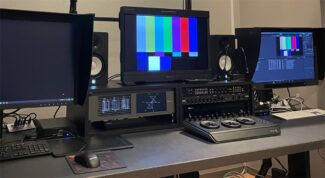 After digitisation, the material is sent to the main building of the National Film Archive of Japan in Kyobashi, where the footage is edited, graded and processed using DaVinci Resolve Studio and a DaVinci Resolve Micro Panel device. Once the post-production stage is complete, the content is published on the relevant websites: Japanese Animated Film Classics, which showcases early Japanese animations; Meiji Period on Film, which includes domestic films shot in the Meiji era; and Films of the Great Kanto Earthquake of 1923, which in September will feature 20 new films to mark the centenary of the earthquake that struck the Kanto region.
"In order to pass on film and its technology, film archives need to move forward together with the film industry. I hope that the Cintel Scanner, with its ability to make film scanning easier and more available to a wide range of projects, encourages more creators to use film in Japan and revitalize the film industry," Miura concludes.
¿Te gustó este artículo?
Suscríbete a nuestro RSS feed y no te perderás nada.
Other articles on Blackmagic [INT]