BeIN Sports broadcasts French LNV with Blackmagic URSA Broadcast G2

Several Blackmagic URSA Broadcast G2 cameras and the ATEM Constellation 8K mixer were deployed by Art'istic Production to produce coverage of the French National Volleyball League (LNV) for beIN Sports.
Once Art'istic Production was commissioned by beIN Sports to provide live coverage of one of the matches of the Volleyball LNV, the production services company assessed in detail the type of equipment to deploy. In the end, it opted for the Blackmagic URSA Broadcast G2 model, which enabled it to meet a variety of production requirements, including mobilising camera operators before, during and after the event. Arthur Brousmiche, founder of Art'istic Production, elaborates: "Very early on, Blackmagic Design emerged as the ideal technical partner. It's a brand that we know offers outstanding performance and is excellent value for money."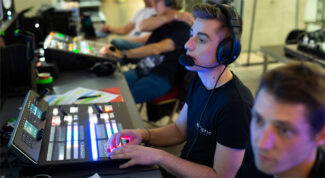 Art'istic Production deployed three URSA Broadcast G2 units, which were used, for example, shoulder-mounted to record shots from the pitch, and combined with the Blackmagic Studio Camera 4K Pro model, which handled the master signal. From these locations, Brousmiche remarks, "we can capture the coach's team talks during time outs while providing close ups of the action on the court and watching spectators." As the tournament takes place in various locations in France, the sporting venues can differ greatly, so for the producer the main challenge was simply to get clean images: "What I like a lot, and that I was able to test in numerous halls, many of which are municipal gyms, is the camera's performance in low light. The image quality is excellent as are the higher frame rate options."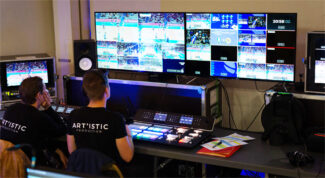 The signals from the cameras were fed to the ATEM Constellation 8K mixer via Cat6a (Ethernet) cable, which was then converted to SDI using a Blackmagic Studio Converter unit. The system was completed with the ATEM 2 M/E Advanced Panel control unit: "There was a need to invest in a high performance production switcher that would give our client complete confidence in our ability to deliver. The transition control features, the multiview, the SuperSource, at a price like that? There is a lot to like about this switcher." says Brousmiche.
"A few months ago, we didn't know where to go with an exciting and complex challenge like this. Thanks to Blackmagic Design we have been able to implement a lower cost, high performing broadcast quality workflow," concludes the head of Art'istic Production about his project for beIN Sports.
¿Te gustó este artículo?
Suscríbete a nuestro RSS feed y no te perderás nada.
Other articles on Art'istic Production [INT], BeIN [INT], Blackmagic [INT]