New Al Mashhad TV begins its journey with Lawo IP infrastructure solutions

A wide selection of Lawo's native IP solutions form the technological core of the newly launched Dubai-based Al Mashhad TV.
Al Mashhad is a multi-platform television channel and digital platform launched in January 2023 and led by Tony Khalife, a renowned journalist and news anchor in the Arab world. Conceptually, the station is born with the aim of offering an "innovative experience" by blending television and digital broadcasting through the deployment of cutting-edge technologies. In the same way, television deploys in its more digital side adaptive and personalised content based on analytics through a personalised user experience driven by artificial intelligence.
The infrastructure for this concept is based on Lawo's native IP solutions: mc²36 All-in One audio consoles with A__UHD core audio technology combined with HOME, Lawo's management platform for IP-based media infrastructures, and Lawo VSM (Virtual Studio Manager), Lawo's global playout control solution. This project, integrated by One Diversified, is completed with A__line stage boxes that are used as AoIP nodes.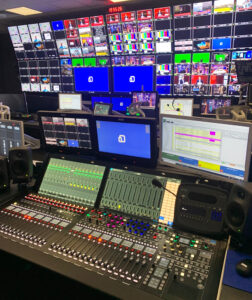 Integrated throughout the infrastructure are two 32-fader Lawo mc²36 MkII consoles, each with 256 channels of processing at 48/96kHz and an I/O capacity of 864 channels. Each of the consoles is IP-native and compliant with all relevant standards, and includes redundant power supplies and ST2022-7 "hitless merge" network redundancy required for live broadcast operations. The redundancy design integrates two VisTool interfaces with access to ruby consoles as backups, powered by a Power Core as the processing engine. In addition, the configuration includes six A__mic8 devices that serve as stage boxes for the IP infrastructure.
Al Mashhad's CTO Srinivas Kuppa and its Engineering Division were very pleased to have Lawo as part of their technology solution: "Flawless coordination is key for Al Mashhads IP infrastructure, and we decided to reach out to a company with a track record for this kind of projects. With Lawo, we found a partner that not just develops and manufactures innovative quality equipment, but also provides services around the installation."
"Technically, Lawo's HOME allows for intuitive IP stream routing, while overall control is handled by the device-agnostic Lawo VSM. This allows to seamlessly integrate the Audio-over-IP RAVENNA network with the broadcast equipment of Al Mashhad's facilities," adds Kuppa.
¿Te gustó este artículo?
Suscríbete a nuestro RSS feed y no te perderás nada.
Other articles on Al Mashhad [INT], Those [INT], One Diversified [INT]